We've got you covered on how to follow as the Jacksonville Jaguars take on the New England Patriots at Gillette Stadium in Week 17.
MATCH UP
The Jaguars travel to Foxborough to play the New England Patriots on January 2 in their first meeting since 2018 when Jacksonville defeated New England, 31-20.
QB Trevor Lawrence completed 26-of-39 passes for 280 yards and an 87.6 QB rating in Week 16 at the Jets. Lawrence, who also ran for 37 yards, has recorded 3,225 passing yards and rushed for 301 rushing yards during his rookie season. He joins Josh Allen, Patrick Mahomes and Kyler Murray as the only quarterbacks in the NFL with at least 3,000 passing yards and 300-plus rushing yards this season.
Sunday, January 2nd, 2022
Kickoff is set for 1:00pm ET
WATCH ON MOBILE
Watch for FREE on the Jaguars mobile app (audiences located in Jacksonville and affiliate markets including Orlando, Daytona, Savannah and Gainesville only)
NFL Game Pass offers replays of every game, available as soon as the live broadcast ends. Start your free trial and cancel at any time.
*Please check your local TV listings to confirm availability. Geographic and device restrictions apply. Local & primetime games only. Data charges may apply
JAGUARS WEEKEND: 10:30AM - FOX30
PUBLIX TAILGATE SHOW: 10:00AM - JAGUARS.COM, YOUTUBE
JAX VS. NE: 1:00PM - CBS
JAGUARS POST GAME: POST GAME - JAGUARS.COM, YOUTUBE
Table inside Article

| TV Broadcast Information | |
| --- | --- |
| Network: | CBS |
| Play-by-play: | Andrew Catalon |
| Analyst: | James Lofton |
| Sideline Reporter: | Sherree Burruss |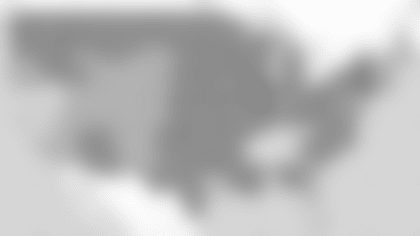 Table inside Article

| Radio Broadcast Information | |
| --- | --- |
| Flagship: | 1010 XL 92.5 FM |
| Play-by-play: | Frank Frangie |
| Analyst: | Jeff Lageman, Tony Boselli |
| Sideline Reporter: | Rick Ballou |
Jaguars radio can be heard on WJXL (1010AM, 92.5 FM) and 99.9 FM Gator Country.
PUBLIX TAILGATE SHOW: 10:00AM - 1010XL, 92.5 FM
COUNTDOWN TO KICKOFF: 12:00PM - 1010XL, 92.5 FM, 99.9 FM
JAGUARS GAME DAY: 1:00PM - 1010XL, 92.5 FM, 99.9 FM
JAGUARS FLORIDA HOME AC POST GAME: End of Game - 1010XL, 92.5 FM, 99.9 FM
Jaguars SCOREBOARD SHOW: 1 hour after the game - 1010XL, 92.5 FM
STAY CONNECTED
Get all your gameday coverage at Jaguars.com. Follow on the go with the Jaguars app for FREE game livestreaming, exclusive content, enhanced game day alerts and more. Stay connected with the Jacksonville Jaguars by following the team on all the following social media channels: