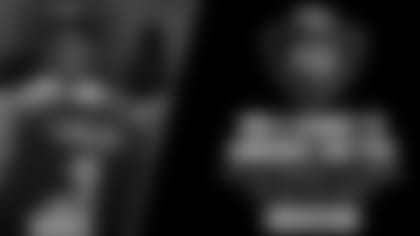 ](http://www.nfluk.com/events/you-make-the-pick.html "You Make The Pick")

LONDON will play a central role in the 2016 NFL Draft as one lucky fan will announce a Jacksonville Jaguars' Draft pick live from the capital.
The fan will join Jaguars player Michael Bennett, whose drafting was announced from London last year, to broadcast the Jaguars' fifth round selections from a London studio to millions of viewers world-wide.
Given the Jaguars' commitment to play one home game each year in London until at least 2020, the team is continuing to honour its UK fan base after making NFL history last year by having draft picks announced outside the US for the first time.  The winning fan will make the announcement as part of a live broadcast on the NFL Network in the US on Saturday April 30.
The NFL Draft, a staple of the NFL season since 1936, sees the best 256 college American Football players picked by all 32 NFL franchises over seven rounds. The event plays a major part in each team's preparation for the new season and creates a media and fan frenzy as followers of each team wait to see which exciting new talent will be brought into their team's roster from American colleges.
The NFL Draft regularly attracts tens of millions of TV viewers and will broadcast its first three rounds from a base in Chicago this year.  Through rounds 4-7, each NFL team will then take turns to announce their Draft picks live on camera from their team base. The Jaguars will be the only team to have two home bases – one at EverBank Field in Jacksonville and the other in London.
Mark Lamping, President, Jacksonville Jaguars, said: "The Draft plays a huge role in the Jaguars' preparations for the new season.  We were delighted to be able to make history last year by taking a Draft announcement to London.  Given our extended commitment to play in London every year until at least 2020, it seems fitting that once again we're giving one of our UK fans the chance to share in the excitement of the Draft and the NFL."
Fans wanting to write themselves into the NFL history books by announcing a Jaguars draft pick can enter the 'You Make the Pick' contest presented by Visit Florida at http://www.nfluk.com/events/you-make-the-pick.html The winner plus guest will also receive travel and hotel accommodation for their stay in London, plus a range of Jaguars merchandise. All entries must be received by the closing date of April 21 and terms and conditions apply.
The Jaguars are the only NFL team to make a yearly commitment to London, playing one home game each year in the capital since 2013.  For 2016, the Jaguars will head to Wembley Stadium, for their fourth visit in as many years, to face the Indianapolis Colts on Sunday October 2. A limited number of tickets are still available via www.nfluk.com
For more information about the Jacksonville Jaguars visit www.jaguars.com/UK and Twitter or Facebook /JaguarsUK #BeJaguars