'NFL on Regent Street' was back again to transform central London into a massive NFL fan festival today – and the Jacksonville Jaguars played centre stage with their very own section of the street.
Around 600,000 fans embarked on the pedestrianised area from Piccadilly Circus to Oxford Street to experience a wide range of activities and appearances.
The Jaguars celebrated their return to their second home with a dedicated Jaguars section near Piccadilly Circus with the ROAR of the Jacksonville Jaguars also performing their routines throughout the day to wow passers-by.
Activities at the Jaguars Zone included a Jaguars Wide Receiver Challenge, Jaguars Quarterback Challenge and a Jaguars Obstacle Course so fans can test their skills. There were big prizes to be won such as signed merchandise, jerseys, helmets, footballs, t-shirts, hats. There was also plenty of Jaguars giveaways like free jaguars branded stress footballs  as well as face painting and exclusive merchandise – soon the street was pained teal with fans!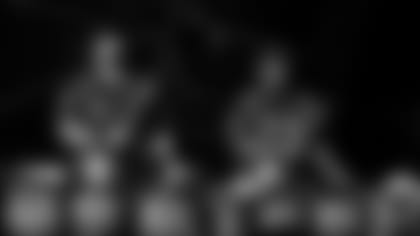 Fans were also treated to an on-stage appearance from Coach Bradley and players including Blake Bortles, Malik Jackson and Allen Hurns. Long snapper Carson Tinker was also on stage to provide the jokes and soon went off stage to interview UK Jags fans and really get to know the support across the pond.
Jaguars legend Tony Boselli also appeared on stage for a live interview in front of the Jags fans as did former Jaguars tight-end Kyle Brady to talk all things black, gold and teal.
There will also be on-stage approaches from the Jaguars players such as Blake Bortles and Allen Robinson with Coach Bradley. There will be performances from the Jacksonville Jaguars Cheerleaders as well as Jacksonville Jaguars legend Tony Boselli will being there for a live interview in front of the Jags fans!
With the players, coaches and alumni geeing up the crowd everyone left Regent Street ready and raring to go for Wembley!