Three exciting young players who will be key members of the Jacksonville Jaguars in the coming seasons are heading to the UK!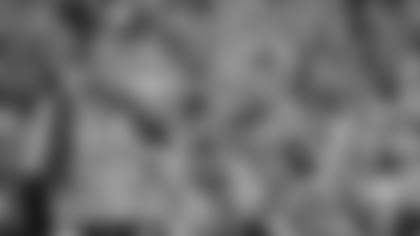 The trio of second-year stars – running back Denard Robinson, cornerback Dwayne Gratz and hard-hitting safety John Cyprien – will be in London to take part in a variety of NFL Draft-related activities and to appear at the Jags LIVE @ Westfield event on Saturday 10th May.
All three youngsters were drafted last season and are set to become key players as head coach Gus Bradley and general manager David Caldwell continue to improve the Jaguars, who won four games in the second half of last year's campaign.
Cyprien was a second round draft choice who blossomed in 15 starts as an NFL rookie. The 6-foot, 217-pounder showed a penchant for being around the football and ranked second on the team with 104 tackles.
But Cyprien – who should become an even better player in 2014 with another NFL year under his belt – was much more than just a tackling machine. His nose for the football resulted in two forced fumbles, one sack and one interception for 27 yards.
Jaguars head coach Gus Bradley said: "He's really become a sure tackler. He takes a lot of pride in it in practice and it showed up on tape."
One of five defensive backs selected by the Jaguars last year, Gratz was a third round choice who played in 10 games and made eight starts.
Gratz also showed plenty of promise in recording 32 tackles and two interceptions for 20 yards. At 5-foot-11 and 201 pounds, the former Connecticut product has the size, strength and physicality that Bradley covets from his time with the Seattle Seahawks.
Despite missing time with two separate injuries (high ankle sprain and shin), Gratz showed enough talent to be pencilled in as a likely day one starter in 2014. Quarterbacks who attacked him in 2013 produced a pretty miserable passer rating of 75.7.
Having survived a rookie baptism of fire of sorts, Gratz has made it a point of emphasis to improve his footwork and to use his hands better in this coming season. If he can do that and continue to grow as a player, he should be a very solid member of a much-improved Jacksonville defense.
Robinson – a former quarterback at Michigan – went through a learning year in 2013 after being chosen by the Jags in the fifth round.
The young man dubbed 'Shoelace' because he likes to play with his shoes either untied or very loosely tied only saw the field for 53 snaps in 2013 but figures to play a more expanded role this term.
Robinson was originally listed as an 'offensive weapon' on Jacksonville's 2013 roster but is strictly a running back in 2014. He has added 15 pounds to his frame – up from 197 to 212 – and is expected to be more powerful. The 23-year-old is already blessed with world class, game-changing speed.
"Denard understands that he is a running back," Bradley explained. "He's a more confident athlete and I think he is really looking forward to this season."
There is no denying Robinson is an outstanding athlete. During his college career he once accounted for 502 of Michigan's 532 offensive yards against Notre Dame (258 rushing, 244 passing) and he ended his college career with 6,250 passing yards and 49 touchdowns and 4,495 rushing yards and 42 scores.
If he can tidy up some ball security issues, Robinson should become more of a factor in the Jags' offense, offering an explosive and versatile change of pace alongside newly-acquired running back Toby Gerhart.
Date of Birth: July 29 1990 (age 23)
Home state: North Miami Beach, Florida
Height and Weight: 6'0'' and 217lbs
College: Florida International University
Draft Pick: Round 2 / Pick 33
Born and bred in Florida, Cyprien is not far from home playing in Jacksonville
From his college career he is considered one of the greatest Florida International University safeties of all time and holds the school record for career tackles made
He was the second-highest tackler for the Jaguars in his first season with 104 and one sack
He is a first-generation Haitian-American and his favourite food is steak and potatoes
Date of Birth: September 22 1990 (age 23)
Hometown: Deerfield Beach, Florida
Height and Weight: 6'0'' and 197lbs
College: University of Michigan
Draft Pick: Round 5 / Pick 135
Nicknamed 'Shoelace' due to playing football since age 10 with his shoelaces undone, Robinson can still run a 10.4 seconds 100m so has continued his quirky habit to this day
He broke Tom Brady's University of Michigan passing record and his hugely popular college career saw him installed as the cover star of video game NCAA Football 14
Robinson was used in a variety of positions in his rookie year but has put on 15 pounds of weight to specialise as a running back for the Jaguars this season
He has been growing his hair for six years and has a degree in General Studies
Date of Birth: March 8 1990 (24)
Home state: Piscataway, New Jersey
Height and Weight: 5'11'' and 201 lbs
College: University of Conneticut
Draft Pick: Round 3 / Pick 64
Gratz first came to nationwide attention with a stunning 46-yard interception touchdown in the 2011 Orange Bowl during his college career with the University of Connecticut
An extremely strong cornerback, Gratz was ranked no.1 overall at the combine in bench press after managing 22 reps with a huge 225 lb weight
After being injured in the first Jaguars match Gratz's return to the team last year coincided with their best form – winning four of the eight games he featured in as he ended joint-first in interceptions
He is the third-oldest of eight siblings and is an avid soccer fan