JACKSONVILLE – The time for talk and speculation is past.
Christian Kirk, Foyesade Oluokun and the Jaguars are aware of that, and they are aware heightened expectations entering 2023. Those things are fine, but they don't influence what happens on the field.
That makes them meaningless beginning this week.
"We have to block all that out," Kirk said Monday as the defending AFC South Champion Jaguars began preparing to play the Indianapolis Colts in the 2023 regular-season opener at Lucas Oil Stadium in Indianapolis Sunday at 1 p.m.
Added Oluokun, the Jaguars' starting inside linebacker and the NFL's leading tackler the past two seasons: "We have to prove it every week."
Kirk, the Jaguars' leading receiver last season, and Oluokun spoke to the media early Monday afternoon. The team practiced that day, and will begin full preparations and a "regular" regular-season week on Wednesday at the Miller Electric Center.
Their media availabilities covered multiple topics, perhaps most notably the different feeling around an organization that enters the regular season as defending division champions two seasons after back-to-back seasons with the NFL's worst record.
"Confidence is in there, but I would describe it as we're just more comfortable with who we are," Kirk said. "We know who we are. We understand who we are. We're going to own that. We know what we're good at. We're not going to shy away from that.
We're going to beat that into what we do and we're not going to get away from that. I think everybody individually and as a team are comfortable with who we are, what we are, what we stand for, and what we do best. I know offensively we have that mindset, and I know as a team we have that.
"I would say it's comfortability, but confidence as well."
Kirk said the aspirations of the franchise – and the perception of the franchise – have changed since the team won its final five regular-season games to qualify for the postseason for the first time in a half-decade.
"Last year there weren't any expectations," he said. "People kind of started raising eyebrows when we were winning games last year. Now people are just going to expect us to do that. For us, it's just going out there and playing to our standard and playing to our ability and not losing that edge and what got us to where we were last year."
Olukoun said cohesion in the second season under Head Coach Doug Pederson is evident throughout the franchise.
"We're definitely closer as a team already this year," Oluokun said. "It's all cohesive in that locker room right now. We just need to keep those positive vibes going."
Kirk, who caught 84 passes for 1,108 yards and eight touchdowns for an offense that ranked 10th in the NFL in scoring and ninth in total yards last season, said the sense of players "being on the same page" could be felt throughout the offseason and into the preseason.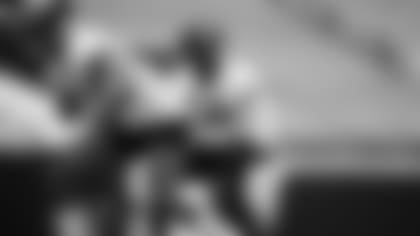 "It's different in a sense of just the way we operate," he said. "You just feel the efficiency and the effectiveness. We talked about it a lot this offseason, having a full season in this system. You come in now and it's kind of like the back of your hand. You know what works and what doesn't work. You know what we're trying to accomplish on each and every play. That's a big part."
The Jaguars went 4-2 in the division last season, splitting with the Colts and Houston Texans and sweeping the Tennessee Titans. They have split the season series with the Colts each of the past five seasons, with each team going 5-0 against the other at home during that span.
"It's a big game for us," Kirk said. "Anytime we talk about divisional opponents, those are the biggest games on our schedule because that's step No. 1 in getting to where we want to be, taking care of our division. To be able to come out Week One, going into a heightened atmosphere, going into to divisional territory, being on the road, in their stadium … we know this game means as much to them as it means to us.
"The adrenaline will be going and the level of expectation how we're going to have to execute is going to be at a high level."
Important, too, is starting the regular season strong after starting 2- 6 last season before winning seven of their last nine games.
"It all starts with the first game going forward after that," Oluokun said. "We're trying to get on the roll earlier than last year because you already know how it looks when it's not looking right. We're trying to do our thing out there."