JACKSONVILLE – The moment will be big, and loud. Really big – and really, really loud.
Head Coach Doug Pederson coached long enough where the Jaguars will play their biggest game of the season to date to know that – and he had this to say about the atmosphere at GEHA Field at Arrowhead Stadium in Kansas City, Mo.: It's a factor. A real factor.
Jaguars quarterback Trevor Lawrence called the environment at Arrowhead: "One of – if not the – best in the NFL."
"I can't imagine it will be much louder than our fans were here Saturday, honestly, but that was when we were on defense – not on offense," Lawrence said.
Pederson, in his first season as the Jaguars' head coach, spent three seasons as the Chiefs' offensive coordinator – 2013-2015.
"It's a great atmosphere and these fans are passionate about the Chiefs," Pederson said. "It's the loudest [stadium in the NFL] for a reason. We just have to be able to go in there and just focus in more specifically on your job. You have to be able to hear in the huddle, things of that nature.
"I can turn the noise here [in practice] as loud as I want, and it's not going to make an impact. It's loud for them. It's loud for their defense. We both have to play in it. You just have to have a lot of the non-verbal communication on point."
The Jaguars lost to the Chiefs, 27-17, in Kansas City in Week 10 – and Pederson was asked if a regular-season experience helps prepare for a postseason game in the same venue.
"It does – just the environment, being there, seeing it," he said. "Some of the guys haven't been there before, then having gone there during the season helps a little bit. But this will be different. Playoff football's different and the crowds are different."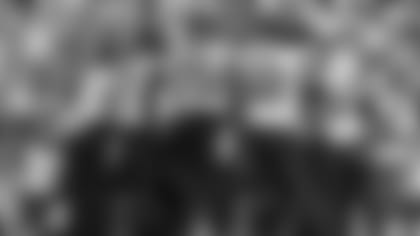 Lawrence said, "We played there early in the year, but this is a little bit different. It's a playoff game, divisional round. The stakes are higher, so I expect them to be even crazier and a more-packed stadium. At the end of the day, you've got to go play."
Lawrence, like Pederson, said communication offensively will be the biggest focus.
"We've got to get in and out of the huddle," Lawrence said. "We've got to get to the line of scrimmage, so we have time to communicate [at the line]. Everything naturally takes a little longer when it's loud."
Added Lawrence, "It's something you learn to get used to. You have to win games on the road, so you can't let it be too much of an advantage for them. You have to find ways to operate and to communicate and to be on the same page when it's really, really loud.
"We've done a pretty good job on the road communicating pretty well. That will be the key again."
Lawrence on the postseason: "You win and you keep going, you lose and you're done. There's that sense of urgency of … the desperation of doing everything you can to win the game. You feel that on both sides of the ball. It's that way in the regular season, too. It's another level because everybody knows. Especially now that we're in the divisional round, we're getting deeper and deeper in this thing, people know what's on the line, and guys are just willing to do whatever it takes to win, so there's that level of intensity. You know you're going to get everybody's best shot, so you've got to be prepared."
Jaguars outside linebacker Josh Allen registered a sack and tied a season-high with four quarterback hits Saturday in a 31-30 victory over the Los Angeles Chargers in a Wild Card Playoff game at TIAA Bank Field. He has four sacks, two forced fumbles, two fumble recoveries, a fumble return for a touchdown and 13 quarterback hits during the Jaguars' six-game winning streak. He had three sacks and 13 quarterback hits in the first 12 games of the season. "I'm just ready to play each week – physically ready, mentally ready," he said. "I'm trusting in myself, trusting in my technique, trusting in God that I can go out there and perform at a high level. And I'm trusting in my teammates and my teammates trust in me. All that confidence I have … I just go out there and play."