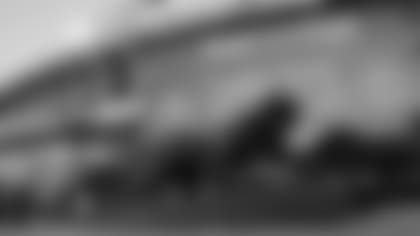 Fans attending Jaguars games this season will notice many enhancements to the game day experience.  "The game day experience for our fans continues to be a top priority. We are excited to introduce multiple enhancements for the 2012 season and will continue to look for ways to make the EverBank Field fan experience even better in the future," said Jaguars President Mark Lamping.  Fan improvements for the 2012 season include:
Fan comfort and entertainment initiatives
The cellular phone antennae system in the stadium will be upgraded in time for the first regular season game, which will result in improved cell phone service for fans.
An upgraded audio system has been installed which will distribute sound more evenly throughout the entire stadium.
The "Sea Best Cool Zone" will make its debut during the first regular season game at three locations throughout EverBank Field.  The signature location can be found in the area beneath the Bud Light Party Zone and will feature air conditioned cooling benches, misting fans, television monitors and cold refreshments all designed to help fans beat the heat on hot game days.  Air conditioned cooling benches will also be located in the "Sea Best Cool Zones" in the north end zone and on the Sky Patio.
The "Sea Best Cool Zone" in the south end zone will remain open after all 1pm and 4pm  games for fans to watch out of town game broadcasts.  The expanded Fifth Quarter in the "Sea Best Cool Zone" will feature performances by the D-Line and discounted concessions.
The Jaguar players will now walk through the covered public area beneath the Bud Light Party Zone prior to pregame introductions.  "The Prowl" will provide fans a unique access opportunity to cheer the team just prior to the players taking the field. This player/fan interaction is modeled after the college football experience seen and loved on many campuses on Saturdays in the fall.
A new and improved Fan Entertainment Zone in the south end zone will feature more interactive games for kids and adults, discounted concessions, giveaways, autographs from the ROAR and Jaguars alumni, performances by the D-Line, live bands, and DJs.  The Jaguars' pregame radio broadcast will continue to originate from the Fan Entertainment Zone.
Fans will now be able to enter the seating bowl two hours prior to kick-off to enjoy more of the pregame activities. In prior years, fans were allowed access 90 minutes prior to kickoff.
By popular demand, three regular season games will feature halftime performances by college and high school marching bands.
A new Nike-themed merchandise store will open in the south end of the stadium near section 145 for the first regular season game.
For the first time, beginning with the regular season the EverBank Field video boards will show to all fans the "Under The Hood" replays the referee will be reviewing during on-field replay challenges.
A new "lap pass" ticket will be made available which allows children less than 34 inches tall to enter the stadium free of charge provided he or she sits on an adult's lap.  Lap pass tickets will be available only on game days and can be obtained at the game day ticket office at Gate 2.
Half-price season tickets are now available in designated sections for youth under the age of 12 who are accompanied by a paying adult.
Jaguars fans will now be allowed to bring food into the stadium, subject to certain restrictions. Food must be unwrapped and placed in an 11" x 11" clear plastic bag.  No liquids will be allowed.
There will be no price increase on food items at concessions stands throughout the stadium for the 2012 season.
Three new collectible Jaguars 2012 souvenir soda cups will be available and fans will once again be allowed to bring back any of the souvenir soda cups to future games and have it refilled for just $3.
The price of 24 oz. bottled water will once again be reduced to $2 when the kickoff temperature is 90 degrees or above.
Overall merchandise pricing has been reduced by 20% from the 2011 season.
All guests will be required to go through a magnetic wand screening prior to entering the stadium.  To ensure the safest and most efficient entry for all guests, we encourage fans to arrive at the gates at least 15 minutes earlier than their normal arrival time.
New cold beer lines have been installed which will ensure colder draft beer at concession stands.
A variety of new general concessions food and beverage offerings will make their EverBank Field début this season. Items include:
The Pomegranate Key Lime Signature Drink of the Jaguars made from fresh, Florida-grown ingredients will be available throughout the stadium.
Cuban Sandwich Panini at "The Red Zone" in section 118.
Traditional Philly's or Chicken Philly's at the "Authentic Philly" stand in section 141, 409 and 436.
New Touchdown Club food and beverage offerings, including:
The new Mayport Shrimp burger available at the Gameday Grill.
Loaded Dogs now features a new "Jag Dog" covered with chipotle mayo and mango slaw.
Pork Nachos now available at Taqueria loaded with slow roasted pork, fire roasted green chilies, chipotle cheese sauce, pico de gallo, sour cream.
Flavored teas now available at various locations.
New Healthy options including salads, fruit & vegetable cups, a vegetarian burger, and turkey sandwiches are all available at various locations throughout the lower and upper Touchdown Club levels.  Fans will also find numerous gluten-free items located at the On The Run stand.
Family value options feature: $8 bottomless soda, $7 bottomless popcorn and a Kids Taste Club Meal, which includes a PB & J, fruit, juice or milk and a prize.
The Jaguars begin their 2012 preseason schedule this Friday night at EverBank Field against the defending Super Bowl champion New York Giants. Kickoff is scheduled for 7:30 and the game will be televised on WTEV CBS-47 as well as the Jaguars' nine affiliate stations in Florida, Georgia, Alabama and South Carolina. CBS Sports' Kevin Harlan will call the play-by-play and former Jaguars great Tony Boselli adds analysis.
The game can also be heard on WOKV AM & FM Radio (690, 106.5) and the 10 affiliates on the Jaguars Radio Network. Brian Sexton and Jeff Lageman will open their tenth season together in the Jaguars radio booth.
For more information, please contact Dan Edwards at (904) 633-6202 or edwardsd@jaguars.nfl.com.