JACKSONVILLE – Seven Jaguars experts – Bucky Brooks, Frank Frangie, Brent Martineau, John Oehser, Brian Sexton, J.P. Shadrick and Kai Stevens – are breaking down the Jaguars as the 2023 NFL season approaches; today: the biggest concern entering the season
Bucky Brooks, NFL Media and Jaguars Analyst/Jaguars Sideline Reporter
Biggest concern entering '23: The lack of an established pass rush is the biggest concern heading into training camp. The Jaguars lack a proven one-two punch on the frontline with a proven track record of sack production. While outside linebacker Josh Allen has earned Pro Bowl honors in the past, he has only one season with double-digit sacks (10.5 in 2019). With outside linebacker Travon Walker, defensive linemen Roy Robertson-Harris and DaVon Hamilton and inside linebacker Devin Lloyd on the hot seat to generate more disruptive plays (sacks, tackles for loss and quarterback hits), the Jaguars' defensive hopes hinge on the performance of an unproven unit.
Frank Frangie, Radio Voice of the Jaguars
Biggest concern entering '23: The pass rush. That was a concern last year, and now outside linebacker Arden Key is gone from that group after signing as an unrestricted free agent with the Tennessee Titans. We have to see improvement from existing guys — Walker, Allen, others.
Brent Martineau, Action Sports Jax Sports Director
Biggest concern entering '23: Injuries. I know everyone will say pass rush here, but I'm more concerned about good fortune. The Jags had a bunch of it last year and that doesn't always happen. Can they stay healthy, survive certain injuries and will the depth be strong enough if they do get banged up? It's a big part of it. See 2018 for proof.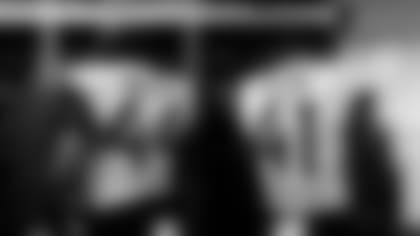 John Oehser, jaguars.com Senior Writer
Biggest concern entering '23: Defense, with an eye on the secondary and the pass rush. The Jaguars were a very good turnover-producing team in 2022, and they generated better pressure on the quarterback as the season continued. But the pass rush wasn't as consistent as was needed last season, and the secondary struggled at times. The back of the defense remains an uncertainty. While cornerback Tyson Campbell is emerging as a front-line cover player, bigger plays – and more consistency – are needed from the other corners.
Brian Sexton, jaguars.com Senior Correspondent
Biggest concern entering '23: I think this is a really good roster with few holes. I get that most folks will point to the pass rush, which wasn't as good as it should have been last season. My concern, though, is the corner opposite Campbell. Darious Williams was okay last season once they moved him back outside from the nickel cornerback position. He's a solid player, but he doesn't have the size or length or suddenness of Campbell – which is going to make him a target. I wonder if he can hold up for an entire season or if he'll fall off as Shaquille Griffin did at that position in 2022.
J.P. Shadrick, jaguars.com Reporter/Editor
Biggest concern entering '23: Pass rush. Where will the consistent pass rush come from? Allen is in a contract year. Walker enters Year 2 in the NFL. Lloyd could move up to add to this group. If the Jaguars offense can score early points, then the pass rush will have more opportunities to get home when opponents are trying to play catchup and throwing the ball – in theory. In reality, the Jaguars' pass rushers must win one-on-one matchups more consistently, no matter the situation. There has been a lot of high draft pick equity spent in this area over the last five years, and it needs to produce.
Kai Stevens, Team Reports/Producer
Biggest concern entering '23: Health. I think the roster is in place to be very successful as it's currently constructed, but there are certain positions that lack depth. I think any significant injuries to the defense could be disastrous. The Jags were fortunate to stay relatively healthy in 2022 so hopefully that continues this season, too.