He's far from alone as the Jaguars prepare to play their biggest game of the season for a third time in as many weeks – this time against a perennial Super Bowl favorite. This is the postseason, and all games are the biggest game.
The Jaguars' quarterback said they are ready for the moment.
"We're in a really good spot," Lawrence said as the AFC South Champion Jaguars (10-8) prepared to play the AFC West Champion Kansas City Chiefs (14-3) in an AFC Divisional Playoff game at GEHA Field at Arrowhead Stadium in Kansas City, Mo., Saturday at 4:30 p.m. ET.
Saturday will mark the teams' second meeting this season, with the Chiefs winning 27-17 at Arrowhead in Week 10. The Jaguars have won seven of eight games since, and have won six consecutive games – including a 31-30 victory over the Los Angeles Chargers in an AFC Wild Card Playoff game at TIAA Bank Field this past Saturday.
The Chiefs are the AFC's No. 1 seed for a third time in five season and have hosted the AFC Championship Game the past four seasons.
"We have a lot of confidence," said Lawrence, who completed 29 of 40 passes for 259 yards and two touchdowns with no interceptions in Week 10. "We've played a lot of football since then. We've won a lot of games since then. We're playing much better in this stretch than we did earlier in the season."
Added Lawrence, "It's just about execution. That's what it comes down to, especially in the playoffs. They might have a few wrinkles, but their scheme is their scheme and it's about who's going to execute better. Especially when you've already played the team once."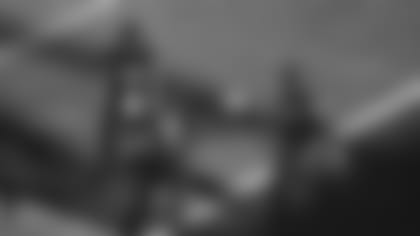 "All I know is we can't do that against the Chiefs," tight end Evan Engram said. "The biggest message we have to relay all week is how we played in the second half, we have to start that way. We have to make it a point to start fast, to score points. It has to be a full team game."
They fell behind the Chiefs 20-0 late in the first half in Week 10 but could rally no closer than 10 points.
"Starting fast will be very, very key," Jaguars wide receiver Zay Jones said. "That's the obvious thing. We have to start better. We have to play a complete game. This is a very, very good team. We're only going to have so many chances. You have to take advantage of them, for sure."
The Jaguars against the Chiefs scored on three of seven possessions past midfield. They had a 3-0 giveaway-takeaway edge, but punted twice and missed two field goals inside Kansas City territory. They also punted after recovering a first-play onside kick.
"We just didn't make our possessions count for the first quarter and a half," Lawrence said. "We just didn't do anything with the ball. Our defense gave us some possession. We left a lot out there. We played better as the game went on, but you've got to score to beat guys like this.
"We're excited to get another opportunity."
Critical for the Jaguars offensively Saturday: Negating, or at least minimizing the effectiveness of, Chiefs defensive tackle Chris Jones. "A great player," Jaguars Head Coach Doug Pederson called Jones. A seven-year veteran, Jones this season registered 15.5 sacks, 17 tackles for loss and 29 hits on quarterbacks. "He's explosive," Pederson said. "He's powerful. There's not a whole lot he can't do. We have to understand where he is. Teams try to put as many hands on him as possible and he still gets there. A lot of respect for him, love watching him play. Our guys understand that and, and they'll play hard."
The Jaguars have committed 12 turnovers in the last five games – including five in the first half against the Chargers with Lawrence throwing four interceptions. "You worry about it," Pederson said. "We were very fortunate the other night. That doesn't happen – five giveaways and come back and win. It just does not happen. That's something we address a lot. I don't want to overemphasize it, but at the same time, they have to understand the seriousness of keeping the football and the seriousness of creating takeaways." The Jaguars during the six-game winning streak have forced 11 turnovers. "Our defense has been getting the ball a little bit here, too," Pederson said. "That has been a bonus for us, but offensively we just can't give it away like we've been doing to win these games, especially now."