JACKSONVILLE – The Jaguars' offseason objective is clear.
"We want to keep those core guys together," Head Coach Doug Pederson said.
But Pederson on Monday said there's a reality to retaining the core of a team that won six consecutive games to win the 2022 AFC South title and advance to the divisional playoffs, where the Jaguars lost to the Kansas City Chiefs this past Saturday.
"The nature of our business is you can't keep them all," he said.
The Jaguars enter the 2023 offseason with the following players scheduled to become unrestricted free agents at the start of the '23 League Year:
Tight end Evan Engram
Right tackle Jawaan Taylor
Defensive lineman Arden Key
Defensive lineman Dawuane Smoot
Wide receiver Marvin Jones Jr.
Tight end Chris Manhertz
Tight end Dan Arnold
Safety Andrew Wingard
Quarterback C.J. Beathard
Defensive lineman Adam Gotsis
Cornerback Tre Herndon
Defensive lineman Corey Peters
"Obviously there are guys you want here," Jaguars quarterback Trevor Lawrence said. "Part of what we did this year, a huge part, is the people that we had and the mindset we built and just the tight-knit group we had. That's what it's about.
"You have guys that know each other, that have played together, that are on the same page. You want to do everything you can to keep all the guys you can and the foundation that you have. That's a big part of those guys being here."
Engram, who signed as an unrestricted free agent from the New York Giants last offseason, reiterated on Monday what he has said multiple times throughout the season – that he wants to return to Jacksonville in 2023 and beyond.
"Conversations will get there," said Engram, who caught 73 passes for 766 yards and four touchdowns in 2022. "I think everything will take care of itself in that aspect. Like I said before: It's definitely a place where I want to be, where I want to continue my career and be a part of what's being built."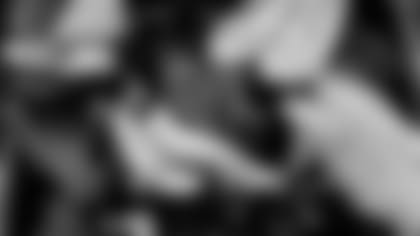 Pederson said players wanting to return "means everything."
"We hope to try to get as many of the guys back as we possibly can," Pederson said. "That was my message to those guys this morning when we met as a team, that we're trying to try to re-sign them all. They were a big part of our success in the season. It's a credit to those guys.
"Those are conversations we have to have and they're going to be tough decisions and tough conversations. It's hard to put a timeframe on it. We're going to do the best for the Jags and making sure that we have the right people here. They're the right type of guys that we want, and we hope to try to at least make an impact trying to re-sign our own."
Lawrence said he "100 percent" plans to voice his thoughts in the area.
"There are conversations obviously that need to be had," he said. "You look at what we did this season, it's about the people that we have – not just the people on the field, but the people, too. You want to keep guys like that, that really have set the standard for your organization and have been a part of what you're building here."
Wide receiver Christian Kirk said the knee injury he sustained in the fourth quarter Saturday was not serious and that he expects to be fine in "a week or so." Added Kirk: "Everything was good. Just soreness." Kirk, who caught seven passes for 52 yards and a touchdown Saturday, led the Jaguars with 84 receptions for 1,108 yards and eight touchdowns – all career-highs – after signing with the team as an unrestricted free agent from the Arizona Cardinals last offseason.
Lawrence: "I think we all know what it feels like now to be part of something special and something we can build on and I think we all see the trajectory of where this organization's headed. I'm super-excited to be a part of it and I think a lot of guys are."