JACKSONVILLE – These are heady times for wide receivers in the NFL.
The position seemingly becomes more important by the year – and with yet another strong class at the spot, receiver will be a draft-long storyline.
So, while there may not be a receiver selected in the top five of the 2022 NFL Draft, there likely will be multiple receivers selected soon thereafter – and teams almost certainly will be able to find contributing receivers throughout the first few rounds.
"It's still really good," NFL Media analyst Bucky Brooks said of the '22 wide receiver class.
Eleven receivers have been selected in the first round over the past two drafts, with three selected in the Top 10 in 2021 – including Cincinnati Bengals wide receiver Ja'Marr Chase, the fifth Top 5-selected wide receiver since 2011.
While no receiver in this draft is considered quite on Chase's immediate-impact level, Brooks and other analysts consider this a deep draft in the second half of the first round and beyond.
"This wide receiver class is loaded," ESPN analyst Todd McShay said.
"It's a great wide receiver draft," NFL Media Draft analyst Daniel Jeremiah said. "I feel like we could copy and paste the comments on wide receivers and use it for the next 20 years, because the college game is giving us a ton of these guys every year."
Players such as Jameson Williams of Alabama and Garrett Wilson of Ohio State typically are among wide receivers projected in the Top 15 – as are Drake London of Southern California, Chris Olave of Ohio State and Treylon Burks of Arkansas. Many analysts project as many as 20 receivers selected in Rounds 1-4, with 35-40 selected overall.
"There are wide receivers for days who can play," Brooks said. "The first-rounders who are viewed as being worth the first round, they can play and make immediate impact. They just may not be Year 1 Pro Bowl ready, but they may be ready to contribute Year 1."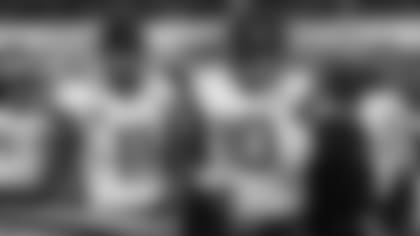 Brooks: "The college game is providing us with plenty of pro-ready receivers. They start catching balls and running routes at an earlier age, and they get the reps to refine their game. The game has become such a play-in-space game where you're trying get the ball to your playmakers in space that it's easy to find those guys. It's a matter of identifying the right ones for your program."
This figures to be a major Jaguars storyline leading into the draft – and through the first two days. Signing wide receivers Christian Kirk and Zay Jones, along with the presence of Laviska Shenault Jr. and Marvin Jones at the position, means the Jaguars don't have to reach for wide receiver in the draft. However, a strong argument can be made for the team selecting a potential No. 1 receiver to develop with quarterback Trevor Lawrence – and draft analysts generally believe such a player could be available at No. 33 overall. Also not to be ruled out: the possibility of the Jaguars using one or more of their 10 selections after the second round to move up from No. 33 into the first round. How the Jaguars approach receiver early is one of the major draft-day questions for this franchise. The Jaguars are good at receiver without such a move, but they may try to get better than good around a young franchise quarterback.
PROJECTED POSSIBLE FIRST-ROUND WIDE RECEIVERS
Table inside Article

| Name | College |
| --- | --- |
| Garrett Wilson | Ohio State |
| Jameson Williams | Alabama |
| Drake London | Southern California |
| Treylon Burks | Arkansas |
| Chris Olave | Ohio State |
| George Pickens | Georgia |
| Jahan Dotson | Penn State |
| Christian Watson | North Dakota State |
| Skyy Moore | Western Michigan |
CHANCE JAGUARS TAKE A WIDE RECEIVER IN ROUND 1
Slim at No. 1 overall, but this could be a position of interest with the first selection of Round 2 – and some have speculated the Jaguars could trade into the first round for a receiver.
WRs ON THE JAGUARS ROSTER
BROOKS BREAKS DOWN THE CLASS
The collection of talent in the 2022 class is impressive from top to bottom. The group is like a box of chocolates with a mix of styles and flavors that satisfy any appetite. Whether a team is looking for an explosive playmaker with the speed to fill the role as a vertical threat or a super-sized pass catcher with the potential to thrive as a red zone target, the 2022 class has a number of candidates to fill each job. Williams, Olave, Wilson, and Dotson are speedsters with home-run potential. London and Burks are super-sized pass catchers with the length and strength to overwhelm opponents on 50-50 balls. Considering the depth and talent in the second and third rounds, this class will produce plenty of all-stars and game-changers.
Do not let the stopwatch and measuring tape overshadow David Bell's production and performance between the lines. The Purdue standout is a precise route runner with outstanding hands, ball skills and concentration. As a classic possession receiver with a knack for getting open against any coverage, Bell is a quarterback-friendly playmaker who will thrive working over the middle of the field. Given his success against elite competition in the Big Ten, the sticky-fingered pass-catcher could make some noise as a mid-round pick with a starting potential.
Wilson is the most complete wideout in the 2022 class. The Ohio State product is a speedy No. 1 receiver with outstanding route-running skills and playmaking ability. Wilson's explosiveness not only adds a dimension to any passing game, but it gives him a chance to take the league by storm as a designated big-play specialist. With teams looking for polished playmakers to build around, the slender pass-catcher is a hot commodity in league circles.