JACKSONVILLE – Devin Lloyd didn't like the timing at all.
So, after sustaining a serious hamstring injury in the Jaguars' pre-2022 Training Camp conditioning test, the rookie inside linebacker asked himself the obvious question.
"I definitely thought, 'Why is this happening right now?''' Lloyd said.
Lloyd, the No. 27 overall selection by the Jaguars in the 2022 NFL Draft, joined senior writer John Oehser for the 2022 Week 2 O-Zone Podcast. Among the topics: the difference between leading in the NFL as a rookie and leading as a collegiate upperclassman, and the beginnings of a strong work ethic.
"I've always worked hard – all the way back from when I first started playing sports," Lloyd said. "That obviously progressed throughout my years playing. When I first got to college and saw some of the older guys and how they worked, that elevated my work even more."
He also discussed just how he returned from the pre-camp hamstring injury – the first significant injury of his football career – to start the Jaguars' Week 1 loss to the Washington Commanders this past Sunday.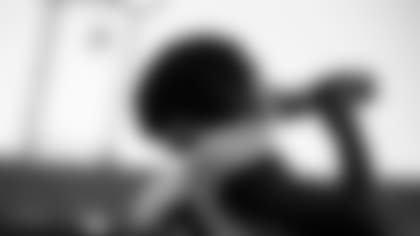 "I really just focused, 'What can I do right now?' and not worry about why this is happening to me," Lloyd said. "I focused on getting back as quickly as possible, but it did come into my mind: The first training camp of my NFL career and I can't be there. And I actually missed the whole training camp.
"It kept lingering and ended up being the whole training camp. It's one of those things you look back on and say, 'That really happened,' but now I'm just glad I had the right mindset and was able to fight my way through it."
Lloyd, a first-team All-America selection in 2021 and a two-time All-Pac-12 Conference selection, also discussed how his father influenced his approach to sports.
"My dad kind of paved the way for me as far as telling me how to handle my business," he said. "He told me so many things, but one thing that stood out is, 'Nothing's going to be given. You've got to go take it. You have to be a student of the game in order to do that.'
"Being a student of the game is something he always harped on me about – understanding the ins and outs of the sport you're playing. He was a basketball player, but something he always taught me about was being a student of the game."
To hear the entire O-Zone Podcast with Lloyd, click HERE.