JACKSONVILLE – Things are different now for Travon Walker. Much different.
The No. 1 overall selection by the Jaguars in the 2022 NFL Draft, Walker is wealthier than he was two weeks ago – much wealthier. And he's officially a professional for the first time. But what he's doing professionally is what's perhaps most notable to Walker and his new team.
He's working at one position. Full-time. And he really likes that.
"I kind of always dibbled and dabbled in the outside linebacker world," Walker said during the Jaguars' recent minicamp at TIAA Bank Field.
Now, instead of dibbling or dabbling, Walker worked at outside linebacker full time – working extensively and solely with outside linebackers coach Bill Shuey during minicamp practice Friday and Saturday.
"Just strictly working on outside linebacker things in practice I feel like I'm truly getting more comfortable with the position," Walker said. "There's always room for improvement. Coming from Georgia, there was a lot of techniques we went over but also coming here [there are a lot].
"At Georgia we ran a lot of techniques, but once I got here, [I had to] break down a lot of those techniques that I learned at Georgia, and focus on that one thing."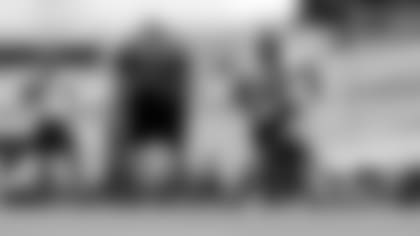 Walker during minicamp not only worked on pass rush and techniques with Shuey, but he also worked on dropping in coverage – which he will be asked to do at outside backer.
"It felt good," Walker said. "I did it at Georgia, so I'm kind of used to it. But now, I'm working on it a lot more getting into seven-on-seven, so I'll get a lot more comfortable with dropping instead of just dropping every now and then."
Both Baalke and Walker said the initial plan is for Walker to focus on outside linebacker before working other positions. Pederson late last week also said he expects Walker to handle any pressure accompanying being selected No. 1 overall "extremely well."
"It's my job too to protect him a little bit from some of the outside influences that could affect him and then just allow him to focus on his job," Pederson said. "But I think Travon is a mature individual. He's young, but he'll be well-coached up and that's our job to do that."
And while the Jaguars' initial plan is to have Walker focus on outside backer, versatility also is expected to be a strength at the NFL level – something Walker addressed over the weekend in something of a question form.
"So far, I'm at outside linebacker with Coach Shuey, but who knows what the future holds?" he said. "The more comfortable I get with the defense, you never know."
NOTABLE
Pederson during minicamp also discussed last week's schedule release, focusing on the team not having a Week 9 bye the week after the team's October 30 home game against the Denver Broncos at Wembley Stadium in London. Teams playing in London may have their bye the ensuing week if they so choose, but Pederson said the Jaguars opted for a later bye. The Jaguars play the Las Vegas Raiders at TIAA Bank Field in Jacksonville in Week 9. "London's Week 8 and really the travel's not too bad because we're on the East Coast going to London," he said. "The travel back is not bad so we can really transition right into a home game after that and still play a couple of games before our bye. … We want it (the bye week) a little bit later because of the 17-game schedule. The later you can have that bye is good." Pederson added, "The time coming back is not too bad from a recovery standpoint. It's just how you prepare yourself when you get back here, so it's not an issue for the team once we get back."
QUOTABLE I
Walker on his first NFL paycheck: "It's truly amazing, but I'm really not focused on money. I'm just here to play ball and all of that's just going to come with it. I definitely do say, 'Wow,' don't get me wrong. But I mean, hey, I'm here to play football."