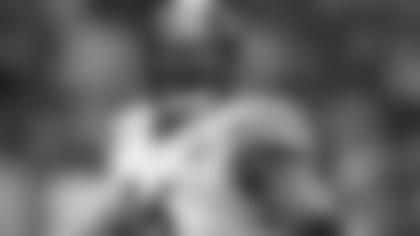 ](http://bit.ly/ZHpics031314)

JACKSONVILLE – This just made sense for Ziggy Hood.
And that was true even beyond some really, really good fishing opportunities in his new town.
Hood, a defensive tackle who previously played with the Pittsburgh Steelers, signed with the Jaguars as an unrestricted free agent on Thursday.
It was the latest in a series of roster moves for the Jaguars, and for Hood – the No. 32 overall selection in the 2009 NFL Draft by Pittsburgh – it was an opportunity to perhaps find a better fit than he had with the Steelers.
"The excitement is there," said Hood, who officially signed his contract with the Jaguars shortly after noon on Thursday, the latest in a busy week around the Jaguars to start the 2014 NFL free-agency period.
"You come to a new team – it's a new beginning. It's a second opportunity and a second chance."
Hood (6-feet-3, 300 pounds), 27, was originally drafted as a defensive tackle from Missouri, and played mostly 3-4 end in the Steelers' scheme.
Hood said he can play either defensive tackle or the five-technique, run-oriented defensive end in the Jaguars' defensive scheme, but that primarily he expects to play tackle.
"I can do both," Hood said. "In the 3-4 scheme, then can use me in some areas they want, but I think for me mainly a three-technique getting up field and penetrating.
"If we can get guys rotating and keep guys fresh, that's only going to make this team better."
Hood, started 46 of a possible 80 games in five seasons with the Steelers, registering 11.5 sacks with the Steelers and 140 tackles. He also has had seven passes defenses. He started 14 games in 2011 and 16 in 2012. He never has missed an NFL game.
Hood, an avid fisherman, joked on Thursday that outdoor opportunities in Jacksonville were a big reason for choosing the Jaguars. But more seriously he said he chose Jacksonville because of an opportunity to fit into Bradley's defensive scheme.
"Coming out of college, we ran the 4-3 and when I got drafted by Pittsburgh (a 3-4 team) it seemed kind of odd," he said. "I did my part and did my best trying to mold myself into what they wanted. I had a great five-year run there, and now it's time to really put some work in at the 4-3.
"I wouldn't say it wasn't a perfect fit, because I'm a team player first. I'm going to do everything I can to help the team and if tworked out, it worked out. The skills they showed me, I can hopefully use that and bring that here."
And a second chance? Yes, Hood said the Jaguars definitely represent that.
"It's a second chance, and it's also a blessing," Hood said. "A lot of guys get upset by moving, but I'll take the opportunity to say, 'Hey, it's a different city for me and my family to grow.' Driving around, I like the city. What better place? If I feel good in the scheme and I like it and the kids enjoy themselves, I think we'll be OK here.
Added Hood, "It's time to go to work. All the business is done and it's time to put my hand on the ground."