JACKSONVILLE – Trevor Lawrence spoke urgently about urgency.
That was the tone late Sunday afternoon following a 37-17 loss to the Houston Texans at EverBank Stadium, a second consecutive home loss that left no one around the Jaguars happy.
Particularly not Lawrence.
"It's not all right," he said. "We're getting to the point where it's not okay."
Lawrence, the Jaguars' third-year quarterback, spoke extensively late Sunday afternoon of not only an offense struggling with execution and key mistakes but of an overall performance by a team that has lost its last two games after winning six consecutive regular-season games dating to last season.
"Obviously, we're not doing everything the right way, or this wouldn't be happening," Lawrence said. "We need to have a heightened sense of attention to detail. Too many bad plays in critical moments, in critical situations. Not getting any momentum. We're not complementing each other on either side of the ball, especially today. We're just leaving a lot out there.
"It's a pretty bad feeling when you come in that locker room when you leave all that out there and you play like you did today and play like we did offensively last week. There's not much you can say to ease that over. We got to go out and play together.
"We have the right guys. I have confidence in that. But you get tired of hearing and saying that."
Head Coach Doug Pederson spoke after the game of the Jaguars buying into their offseason hype and press clippings being "a real thing," with Lawrence and other players emphasizing the need to put last season's late season run to their first AFC South title in 2017 in the past.
"See, this is the thing," tight end Evan Engram said. "We're hanging on too much about last year. That's over. It's a long football season, we have a lot of work to do. That's all we know right now. We're going to put our head down and get to work."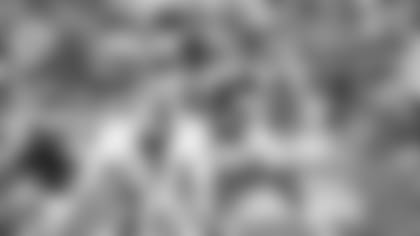 Added Lawrence, "To Evan's point, last year is gone. Last year is done. It was a great season, it was a great ending, great run that we went on. But one, we want to accomplish more; we feel like there's a lot more for us. And two, this is a different team, this is a different season. It obviously hasn't started the way we wanted."
The Jaguars during their run to the 2022 AFC South title five times overcame deficits of 10 or more points to win. That included a 31-30 victory over the Los Angeles Chargers in an AFC Wild Card Playoff after trailing 27-0 in the first half.
"We can't expect the ball to just bounce our way every game," Lawrence said. "We can't put ourselves in 17-point holes and expect that we're going to figure it out. It's hard in this league and you're not going to be able to do it every week. It's not feasible to do that every week. We can't wait until our backs are against the wall to make a play. We have to do it from the first play to the last.
"We need to have more urgency every play. And treat every play like it's the play that's going to change the game. Because you never know which one it's going to be."
Lawrence on Sunday also spoke specifically of an offense that struggled in key situations for a second consecutive week. The Jaguars had multiple dropped passes in the first half – with a missed field goal ending one first half drive in Texans territory, a blocked field goal ending another, a penalty on offensive lineman Brandon Scherff forcing a punt on another and a lost fumble by wide receiver Jamal Agnew ending yet another. Lawrence also threw a second-half interception, with wide receiver Calvin Ridley dropping a potential touchdown pass in the first half and another potential first-down pass. "I'll say this: 'It doesn't matter who you play, when you play, where you play, if you don't execute and you do stuff like that, you won't win a game," Lawrence said. "You won't beat anybody. And the way we play today, it's like we just can't expect to win playing that way." Added Lawrence, "We have to make the throws, we have to make the catches, we have to block, we have to do the simple stuff that we're typically really good at that we're not just doing really good right now."
Pederson: "Today is not a reflection of who we are. We've got seven days to listen to the criticism, which is rightfully so. We got to take it. We have to take accountability for it. We've got to block out the noise and figure out how to win. By no means do you panic. It's early, there's a lot of ball ahead of us. I know we've got the right men in that room and in that locker room to figure this out. Everybody's got to do their part."