JACKSONVILLE – He's doing what he loves.
For Jaguars running back Travis Etienne Jr., that means scoring. And if that means running and catching a lot, the Jaguars' running back said that's OK.
"That's why I play football," Etienne said recently.
Etienne this season not only has gotten his wish, but he has turned opportunity into big-time production. His eight touchdowns lead the Jaguars through eight games, with teammates praising multiple areas of the third-year veteran during the team's recent Week 9 bye week.
"He's special," left tackle Cam Robinson said, with wide receiver Christian Kirk adding: "He's been so impressive. His level of consistency is what stands out to me, just his dynamic ability."
Etienne, the No. 25 overall selection in the 2021 NFL Draft, ranks sixth in the NFL with 583 yards on 151 carries and his seven rushing touchdowns rank third in the NFL. He is fourth in the NFL in rushing and second in touchdowns among players whose teams have had a bye week.
Etienne rushed for 1,125 yards and five touchdowns in 2022, his first season playing after missing his rookie season with a Lisfranc injury.
"I don't even know if he remembers telling me this, but one of the things I remember him telling me during [2023 Training] Camp was, 'It just moves so much slower for me now,''' Robinson said. "I was like, 'Oh yeah, he's going to have a hell of a season. He has the potential to have a hell of a season.'''
One reason for Etienne's effectiveness: his 354 yards after contact, which rank second in the NFL behind San Francisco 49ers running back Christian McCaffrey. He also leads the NFL with 17 broken tackles.
"One thing that always sticks out watching film is his contact balance, how good he is just taking contact and then not knocking him off balance," Robinson said. "That's a real underrated part of any great back's game is to be able to take shots and then not completely throw you off balance."
Kirk, too, discussed Etienne's contact balance and elusiveness, adding: "Some backs just have a knack for just not going down, and I think he has that. The first guy never takes him down. It always takes multiple. He's just always fighting for extra yards. He's one of those slippery guys. He's just hard to bring down."
And while Etienne ranking second in the NFL in carries through eight games has been a topic among Jaguars observers in recent weeks, Etienne said that's not a major concern as the Jaguars exit their Week 9 bye and prepare for the second half of the season.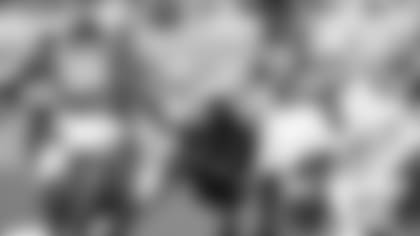 "I don't play like that," he said when asked about reducing his workload. "I want to be the one to score touchdowns. I didn't get in the game not to score touchdowns. I never wanted to play defense because I don't understand chasing guys, honestly. I just wanted to be one they were chasing – me scoring, getting in the end zone. I feel like I'm doing what I've been wanting to do my whole life.
"I'm just enjoying it, just being present and being who I was called here to be."
Speaking Monday following the Week 9 bye, Head Coach Doug Pederson cited third-down offense/defense and red-zone offense as needing improvement entering the final nine regular-season games. The Jaguars have converted 36 percent (38 of 107) of third-down opportunities into first downs (24th in the NFL) and have scored 10 touchdowns on 21 possessions inside opponents' 20-yard lines (23rd). "We did some good things [in the first eight games] and there are definitely some things we can improve on in this back half of the year," Pederson said. "You always look at the top teams in the red zone and just kind of see what they're doing compared to what we're doing and see if things fit." Pederson, too, cited turnovers on offense as an area needing to improve. The Jaguars lead the NFL with 18 takeaways and have committed 13 turnovers offensively. "The turnovers obviously can't happen," he said.
Pederson on talking to players about an upcoming stretch that includes home games against the San Francisco (5-3), Baltimore Ravens (7-2) and Cincinnati Bengals (5-3): "I avoid that with this football team. We have a great football team [the 49ers] coming in here Sunday. Our focus is just on that. I've mentioned we have a nine-game schedule coming up. We got five home games coming up, things of that nature, but I don't look down the road as far as circling games or opponents. It's a matter of just staying in the moment, staying in this week, getting prepared later in this week for San Francisco – who we know is a dangerous football team. They're going to be gassed up and ready to go. We just live in the moment and it's one game at a time."