JACKSONVILLE – Mentally, Trevor Lawrence said all is good.
Yes, the Jaguars' quarterback said the 2021 season could have been better – and he doesn't love the team's offensive struggles.
But coaches and teammates said the No. 1 overall selection in the 2021 NFL Draft is handling his rookie season well despite the team's struggles and off-field issues. And Lawrence on Wednesday said he remains in a good place.
"I think my confidence is good right now," Lawrence said as the Jaguars (2-12) prepared to play the New York Jets (3-11) at MetLife Stadium in East Rutherford, N.J., Sunday at 1 p.m.
"It's still intact. I'm still going to go out there and play my game."
The Jaguars have lost six consecutive games, and former Head Coach Urban Meyer was dismissed last week after 13 games. Lawrence drew praise from Interim Head Coach Darrell Bevell Wednesday for his approach as a rookie in a season with off-field drama and distractions.
"He's really done a good job," Bevell said. "It's been a challenging season – all the new stuff in terms of just playing quarterback, then he had all this other stuff going on with the team. He's about as poised as you could find. I think he has been big in big moments.
"He has really stood up and done what he has needed to do. He has handled it well and I think he'll only get better because of the things he has been through."
Third-year defensive end Josh Allen said of Lawrence, "When we're in the locker room, I tell him, 'I really appreciate you for the type of person you are, not just focusing on yourself and focusing on what's best for the team and being vocal about it.'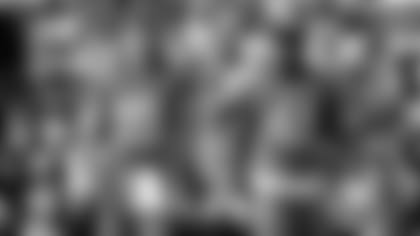 "I definitely thank him and I'm definitely appreciative to have a guy that in the locker room. To be so young, for him to take control is good to see. I know our record, but Trevor has a bright future. He's going to have a bright future in Jacksonville. I can see that coming."
Lawrence, who has started every game this season, has passed for 2,735 yards and nine touchdowns with 14 interceptions.
"We just want him to continue to progress," Bevell said. "Everything that he's doing is a new learning experience. We want him to learn from the last one. We want him to learn from the last one and continue to get better. We're hoping to see that in these last three games."
Lawrence, after registering a passer rating of 90 or more three consecutive weeks entering a Week 7 bye, has yet to have a rating over 82 since. He has thrown one touchdown pass in his last seven games, and the Jaguars haven't scored a touchdown with or to take the lead since a Week 6 victory over the Miami Dolphins.
"I've been saying it: We need to be more productive; we need to score more points,'' Lawrence said. "You mention the one [passing] touchdown in seven games. I hate seeing that because that means we're not scoring a lot of points. It would be different if we were scoring points still and were able to win games. That would be fine. That's my job, is to try to win game.
"But when you see that and you're not scoring points – those kind of go hand in hand. It's disappointing and something we're definitely trying to work on. We've got to be more productive."
Lawrence on passing-game coordinator Brian Schottenheimer, who will take over play-calling duties from Bevell beginning Sunday: "Me and Schotty have a great relationship. We've built great rapport. I know he has a good feel for things I like, things that I'm good at. I'm confident in what he brings to the table."