JACKSONVILLE – Urban Meyer's belief remains strong.
For the Jaguars' first-year head coach, that belief has centered on the locker room – and that remains the same after three consecutive losses.
Meyer on Wednesday called the area "fantastic."
"All I can tell you is my opinion of the locker room has never changed," Meyer said as the Jaguars (2-9) prepare to play the Los Angeles Rams (7-4) at SoFi Stadium in Inglewood, Calif., Sunday at 4:05 p.m. "My expectations never changed."
"I expect us to be the best-coached team in the NFL; we're not. I expect us to compete and win every game. We're not. But I'm not going to change. We're going to keep pushing."
Meyer, speaking at his weekly Wednesday media availability, discussed multiple issues around the Jaguars – praising players such as veteran wide receiver Laquon Treadwell and reiterating what he said Monday following a loss to the Atlanta Falcons that the offense after a midseason improvement has struggled throughout the last month.
The Jaguars through six games were scoring 19.3 points per game and scored at least 19 points in all but one game during that span. The Jaguars since Week 4 have lost wide receivers DJ Chark Jr. and Jamal Agnew to injury – and lost tight end Dan Arnold last week – and running back James Robinson sustained a heel injury in the seventh game of the season.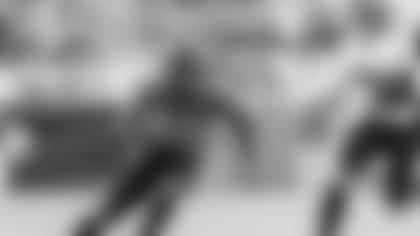 Robinson missed one game and has played through the injury since, during which time the Jaguars have scored 57 points in five games.
"Our offense had a nice trajectory going, and then we got in a touchdown void where we weren't scoring points," Meyer said of an offense that has scored five touchdowns in the last five games – none while trailing by fewer than 10 points. "We've had fluidity at wide receiver. You keep adapting to your personnel."
Meyer on Wednesday praised Treadwell, a first-round selection by the Minnesota Vikings in the 2016 NFL Draft who spent time on the Jaguars' practice squad this season and who has six receptions for 82 yards in the last three games. "Name a guy playing harder in the NFL than Laquon Treadwell," Meyer said. … The Rams feature one of the NFL's best defensive lines, a group that includes defensive lineman Aaron Donald – considered by many the NFL's best player at his position and perhaps the league's best defensive player overall. Meyer was asked where the Rams ranked as far as challenges this season for the Jaguars' offensive line. "This is it," Meyer said. "This is the best one." Meyer called Donald "the best I've seen. I think he's only 285 [pounds] but he plays 330. He's a big, powerful, strong guy." … Meyer on Rams quarterback Matthew Stafford – the No. 1 overall selection by the Detroit Lions in the 2009 NFL Draft— and Jaguars quarterback Trevor Lawrence, the No. 1 overall section in '21: "I think they're different players, but I see the same ceiling. I don't think Stafford has reached his ceiling. Trevor … I'm not sure you can see his ceiling right now."
Meyer on the NFL learning curve in his first season: "[It's] about what I thought. I thought I knew what I was getting into. I knew [it] was putting together a staff, a roster. To say that I envisioned 2-9, I did not. I envisioned we would be a little cleaner team at this point. But I've coached a long time, studied this game a long time, I knew that week in week out, you're facing the best players on the planet. But I thought we'd be a little cleaner by this point, certainly on offense."