JACKSONVILLE – Trevor Lawrence's season has been rough. Really rough at times.
But while that's true, and while little about the Jaguars' 2021 season has gone as hoped or expected, Jaguars Interim Head Coach Darrell Bevell said something else is equally true:
Lawrence has handled the season well.
And Bevell said he believes that will benefit the rookie quarterback moving forward.
"The makeup that he has, I'm impressed with him," Bevell said Monday, a day after the Jaguars' 50-10 loss to the New England Patriots at Gillette Stadium in Foxboro, Mass.
Lawrence, the No. 1 overall selection in the 2021 NFL Draft, completed 17 of 27 passes for 193 yards and a touchdown with three interceptions Sunday. He has thrown 10 touchdown passes with 17 interceptions this season. Sunday was his third game with three or more interceptions this season.
Bevell while Lawrence has struggled, particularly since a Week 7 bye, Bevell said he remains confident in Lawrence moving forward.
"I'm just impressed with the poise he has, and the responsibility he's willing to take for the things he needs to take responsibilities for," Bevell said. "He's learning from all of these. As long as he continues to take those as learning moments and improves from them, I don't think these are deep scars. He hasn't gotten beat up or pounded in the games, so he has been able to handle the situations as they come."
Bevell, asked how Lawrence is dealing with a frustrating season, said frustration is high with many players.
"I don't think any of us envisioned the season going the way it did," he said. "When you start 11 months ago, you have these great visions of how this thing are going to go. Obviously, Trevor coming in as a rookie quarterback, he thought it was going to go a particular way. There have been a lot of struggles. There have been lessons learned. There has been a lot of adversity. He has had his fair share of that this year. He has handled that tremendously. He has been upstanding in all the things we have asked him to do."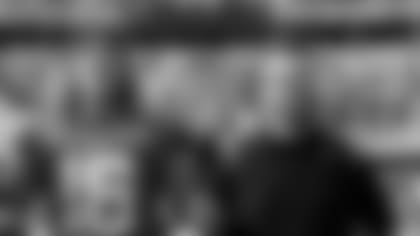 "He has faced the music every time he has needed to. He has taken responsibility for the things he has needed to. One guy can't do it all by himself. Regardless of how good that player is, you need help from the other guys around you. All of us have to be better."
Bevell said he liked what he saw Sunday from rookie tackle Walker Little, who made his second start of the season at left tackle. Little, a second-round selection in the 2021 NFL Draft, started Sunday with veteran Cam Robinson out while on reserve/COVID-19. Little's lone previous start this season came on November 7 against Buffalo, a game Robinson missed with a back injury. "I thought Walker did really nice job," Bevell said. "The things that coaches are going to harp on are more technical stuff." … Bevell also praised veteran wide receiver Laquon Treadwell, who caught six passes for 87 yards – including a 40-yard reception from Lawrence that set up a first-quarter field goal. "Tread has continued to get better each game," Bevell said. "He showed up for us in some big moments and made some good plays." … Wide receiver Laviska Shenault Jr. played a season-low 13 snaps Sunday, catching two passes for 13 yards after missing practice much of the week leading to the game on reserve/COVID-19. "He got very few live reps [in practice]," Bevell said. "We wanted to be able to manage his conditioning level. There were packages for him. We were just making sure we were doing right by him."
Bevell on the Jaguars' offense, which ranks 27th in total yards at 304.6 per game and last in scoring at 14.2 points per game: "Suffice to say we haven't been able to play that I think we were capable of playing. There are a lot of things that go into it. We made too many mistakes. We didn't make the plays when we needed to make them. We turned the ball over. That led to where we are right now."