Jacksonville Jaguars defensive tackle Michael Bennett made his third visit to the UK at the weekend to help launch the Jaguars Se7ens Cup and talk all things Super Bowl.
Bennett, who was the first player ever to have his drafting announced via London in 2015, came to London to speak with UK media and promote the work the Jaguars are doing across the pond in their second home.
The 23-year-old had played at Wembley Stadium in 2015 and came back to where his NFL career began last year for the 2016 NFL Draft broadcast and this time around visited both cities, London and Manchester, set to host the Jaguars Se7ens Cup this year.
And Bennett was called on UK NFL fans to get a team together and get playing.
He said: "Getting to go to the Super Bowl is just an unbelievable prize so I really hope it can be a good reason to get people playing American football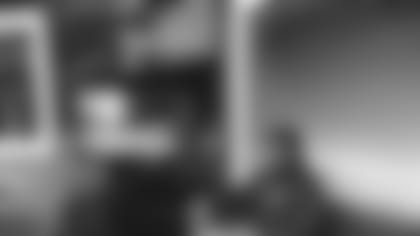 "Anyone can get involved so I hope people start getting in touch with their buddies, get a team together, start practicing and then go out and compete for the chance for the experience of a lifetime."
During his time in London, Bennett visited a school taking part in the JagTag programme and spoke with the Evening Standard about JagTag and the Se7ens Cup. He also visited the Radio X studios to appear on the Jonny Vaughan show and made live appearances on Simon Mayo's Drivetime show on BBC Radio 2 and Sky Sports News.
With Super Bowl 51 on the horizon, Bennett then travelled to Manchester to watch the big game. Tom Brady's heroics ensured overtime and a late night for the Jaguars star who was back on the BBC Radio 5 Live breakfast at 7.30am!
After appearances on CBBC Newsround, BBC News, BBC World Service and an interview with the Manchester Evening News Bennett travelled back to London to enjoy a well-earned bit of sight-seeing before flying back to Jacksonville to get ready for OTAs and a new team under Tom Coughlin and Doug Marrone.