JACKSONVILLE – Press Taylor is pleased with a lot these days.
He likes the Jaguars' offensive talent, and he likes how that talent has approached the 2023 offseason. He particularly likes quarterback Trevor Lawrence's development, and that has the offensive coordinator pleased as the 2023 offseason approaches an end.
"That's obviously a big thing," Taylor said Tuesday.
Taylor spoke on Day 2 of Jaguars 2023 mandatory minicamp, a three-day session marking the end of the '23 offseason for veterans. Lawrence and multiple veterans were excused this week by Head Coach Doug Pederson, but Taylor said to make no mistake:
Lawrence and the Jaguars' offensive coaches made serious progress in recent weeks, the second offseason for Lawrence in Pederson's offensive scheme – and a big part of that progress was having a much clearer idea of what Lawrence likes and doesn't like.
"We had a feel for where he was at this time last year, but we didn't really know," Taylor said.
Pederson throughout last season discussed often a potential second-year jump for Lawrence in 2023. Lawrence multiple times this offseason has discussed his increased comfort level in the offense, saying that his discussions with coaches about the offense are more advanced and in-depth than was the case this time last offseason.
Taylor reiterated that Tuesday as he met with the media for the final time this offseason.
"Now the conversations with Trevor are much further along than they were last year; he knows what he likes, he knows how he wants to attack people, how people try to attack us," he said.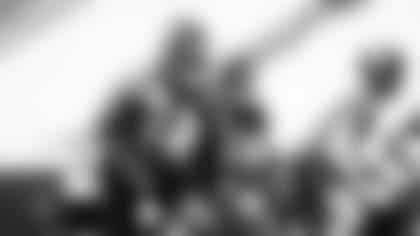 Taylor said that has allowed coaches to go deeper in the offensive scheme than last season, when Lawrence threw 25 touchdowns with eight interceptions for the NFL's 10th-ranked scoring and yardage offense.
"I told Trevor in the exit interview, we build this offense for him, we build game plans for Trevor and then we piece everybody around him based on what they do really well," Taylor said. "Again, this season would be different than it was last season. Each season you kind of take a certain turn, based on who you are and what you're doing well and how teams are playing you.
"I don't expect the pivots we had last season to be the same as we had this season, but there are certain things you settle into – either things he sees really well, or our personnel matches pretty well with these types of concepts, then you just kind of go down that rabbit hole."
Taylor on Tuesday said he doesn't expect issues in 2023 among Jaguars pass catchers – that despite the addition of wide receiver Calvin Ridley possibly meaning fewer targets for players such as wide receiver Christian Kirk and Zay Jones and tight end Evan Engram.
Ridley, acquired in a late-season trade with the Atlanta Falcons, caught 90 passes for 1,374 yards and nine touchdowns in 2020 – his final full NFL season. Kirk, Jones and Engram combined for 239 receptions for 2,697 yards and 17 touchdowns last season. "That's a real thing," Taylor said. "I know everybody wants an opportunity to impact the game. We've talked to all those guys individually. We'll talk to them as a group at certain times, but all those guys are committed to winning. All those guys are willing to do whatever it takes to help our team take the next step in our journey here along the way. They want to have an impact on the game, and so they want touches, targets and opportunity to make plays. We understand that. The biggest thing is just communication of telling them, maybe it's week to week, 'Hey, this matchup aligns really well for you, here's what we're trying to get to.'''
Veteran inside linebacker Foye Oluokun was among multiple veterans excused from '23 minicamp. He attended Monday and Tuesday anyway, somewhat to the disappointment of defensive coordinator Mike Caldwell. "He's not supposed to be [attending]," Caldwell said Tuesday with a laugh of Oluokun, the NFL's leading tackler in 2021 with the Atlanta Falcons and in 2022 with the Jaguars last season. "We call him James Brown, the hardest working man in show business. That just continues. He sat in every meeting, so I told him [Monday], 'You might want to come up here and do the installation, you know it.' He said, 'Nah, nah, nah, you go ahead and do it.' I see him today, he's back in there. That just shows the type of leader he is now. I'd like to see him gone and get away and, and get refreshed, but he's here and we love seeing him around there."