JACKSONVILLE – This is what Andrew Wingard wanted. Actually, it was all he could imagine.
"One hundred percent," he said.
"I thought about it all offseason, and it was hard to see myself wanting to be somewhere other than Jacksonville," Wingard said, adding: "My instant reaction was I was just so happy."
Wingard said he received interest from multiple other teams in recent days.
"I was just excited to get a deal done," Wingard said. "My first free agency was kind of stressful: Phone calls here, left and right, this team, that team, who's offering what …
"It was fun, but I couldn't be more stoked to be back in Jacksonville."
Wingard, who developed recent seasons as a team leader, emerged in 2022 as a fan favorite. He popularized the phrase "It was Always the Jags" during the team's late-season run to the AFC South title and into the postseason, speaking often of the revived culture in the locker room under Head Coach Doug Pederson.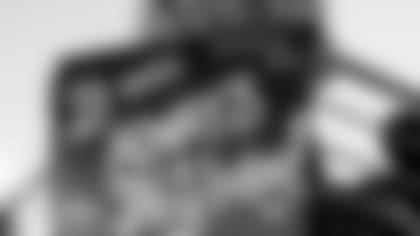 "With the culture that was set, the leadership from Coach Doug, all the guys in that locker room …. it feels good to be able to come back for more with this group of guys and really dial in and set our sights on some high, lofty goals," Wingard said, adding: "To see the fans embrace us like they did last year, myself included … it's just awesome.
"If we get the culture set of having the 'Bank (TIAA Bank Field) rocking week in, week out, we can really do some special things here. We can build this thing and it's super cool, super exciting, for things to come."
Wingard, who originally signed with the Jaguars as a collegiate free agent from the University of Wyoming following the 2019 NFL Draft, has made key contributions throughout his career in multiple roles – as a backup and starting safety, as well as on special teams.
"The stability is a big thing," Wingard said of re-signing with his former team. "It's good to be able to get compensated, especially coming from an undrafted free agent to where I am now. It really reaffirms that belief in myself. Going undrafted, I'll always look back and say, 'It was the best thing that ever happened to me,' but in this free agency we had a lot of good interest.
"It was cool to see that. Other teams watch film. They see who are good players. They know what guys can do. To have teams really like me not only playing special teams but safety … it feels good. But I couldn't be more stoked to be in Jacksonville."
Wingard has started 24 regular-season games in four seasons and has played in 61 of a possible 66 games. He has registered 170 tackles, 119 sacks, with seven tackles for loss and two sacks. He also has four interceptions with seven passes defensed and two forced fumbles. He has 35 career special teams tackles.
Wingard registered 23 tackles with an interception and a forced fumble defensively in 2202, also registering a career-high 14 special teams tackles.
"Now, I just want to really go after it and lock in," Wingard said. "It's hard as an undrafted guy where week in, week out, you don't know if you're going to keep your job. It's super-stressful. Now, I can just really focus on my game, really lock in, really start to improve, and build good habits and start from the ground up again.
"OTA (the Jaguars' offseason program) start April 17 and they can't start soon enough."