JACKSONVILLE – He's looking forward, and happy to be doing so.
Calvin Ridley arrived at TIAA Bank Field Wednesday, the first day of the rest of his NFL life and the first day of his Jaguars life. It was a good day for the veteran, a day for smiles.
Ridley spoke of multiple topics when speaking to Bucky Brooks of Jaguars Media in his lone media availability Wednesday morning. Among them: His happiness to have the past year behind him – and to be starting his future in Jacksonville.
"I wanted to be a part of this," Ridley said.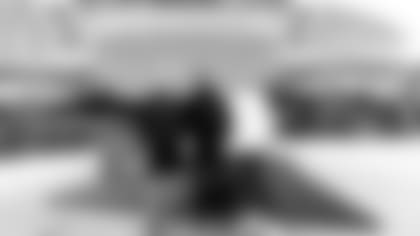 Ridley, acquired by the Jaguars in a trade last November 1 with the Atlanta Falcons, missed the 2022 season while serving an NFL suspension for violating the NFL's gambling policy. He applied for reinstatement February 15, and the league reinstated him Monday.
Ridley said he followed the Jaguars' run to the 2022 AFC South title and into the postseason, doing so with enthusiasm and excitement – and gratitude.
"I thank them so much for taking a chance on me early in that situation," Ridley said. "It gave me some energy. I had a team to watch. I had a reason for wanting to come back and be a great player. They started playing amazing. It was fun to watch them get better. I'm ready to get out there.
"I don't like to talk too much about it. I just want to play."
Ridley last played an NFL game on October 24, 2021 – Week 6 of that season.
"It's going to be amazing – for my mom, my family, for me," Ridley said. "It's just going to be a weight off my shoulders that I waited so long to get back to this point. I'm going to be excited to run through that tunnel and show every Jacksonville Jaguars fan who I am."
Ridley, the No. 26 overall selection in the 2016 NFL Draft by the Falcons, caught 248 passes in his first four NFL seasons for 3,342 yards and 28 touchdowns. He caught 90 passes for 1,374 yards and nine touchdowns in 2020 – his last full season.
"You're getting a playmaker – someone who makes plays, scores touchdowns … a speed route runner, someone who gets open, someone who's a team player, someone who brings excitement to the field and someone who's going to help move the ball," Ridley said.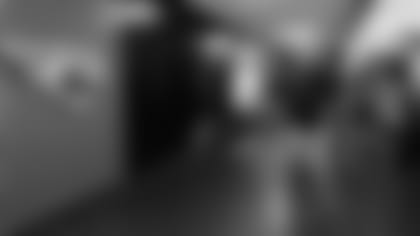 Ridley will join a Jaguars offense that ranked 10th in the NFL in points and yards last season, with the wide receivers Christian Kirk and Zay Jones and tight end Evan Engram combing for 2,697 yards receiving and 17 touchdowns.
"I've talked to a couple of them," Ridley said. "It's been welcoming, honestly. We haven't gotten into the ball or anything like that."
Ridley on Wednesday spoke, too, of second-year quarterback Trevor Lawrence, the No. 1 overall selection in the 2021 NFL Draft who threw 25 regular-season touchdowns in 2022 with eight interceptions – including 15 touchdowns and two interceptions in the final nine games.
"He's a great quarterback – young, smart … he's got an arm," Ridley said. "I can see us doing really, really big things. We've got a lot of teammates that can help. He's a great talent. The arm strength, my ability with that … I think it can really work out good."
Added Ridley, "A year away from the NFL puts a lot of things in perspective for a young man like me. Coming back now, it shows me I miss the game more than ever – and that I love football more than ever. Football is something that I do and love – and will always be what I love."
View Ridley's entire interview with Brooks below, or click HERE.