INDIANAPOLIS, Ind. – The Jaguars have a leader as their leader.
That's one thing Charles Davis likes about Doug Pederson, and the NFL Media analyst was effusive this week praising the Jaguars' new head coach.
"I'm bullish on Doug Pederson," Davis said.
Davis, speaking to jaguars.com this week at the 2022 Scouting Combine, discussed multiple Jaguars-related issues. He spoke of the team's opportunity with the No. 1 overall selection in the 2022 NFL Draft, outlining why many analysts believe the Jaguars could use that selection on University of Alabama offensive tackle Evan Neal.
"[Quarterback] Trevor Lawrence must be taken care of," Davis said.
Davis also spoke extensively about Pederson, who spent 2016-2020 as the Philadelphia Eagles' head coach. He coached the Eagles to playoff appearances following the 2017-2019 seasons and a Super Bowl victory following the 2017 season.
The Jaguars hired Pederson as their seventh head coach on February 4.
"They're getting, No. 1, a tremendous person," Davis said. "I feel like this is an organization that desperately needs that heading things up right now. I know that sounds like a slam and it's not what it's meant to be. I'm just saying, 'Let's talk about Doug Pederson, who this man is.'''
Davis said Pederson's departure from the Eagles following the 2020 season – and his subsequent year away from the NFL – could benefit him and the Jaguars moving forward.
"He's been through the bumps now," Davis said. "He could not have been riding any higher, winning a Super Bowl in Philadelphia – one of the toughest cities to be a coach – and a couple of years later, he's out. What happened? He took the time to retool. He did that introspection thing.
"I'm sure he went back and reviewed his book, which was entitled 'Fearless,' because I think he got away from being fearless in Philadelphia because other factors kicked in."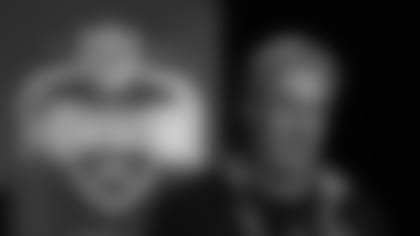 Davis added, "If you get that Doug Pederson back – who relates well to players – people like him, people like coaching for him."
Davis, too, said he believes Pederson's background will benefit Lawrence. Pederson spent 13 seasons as an NFL quarterback with the Green Bay Packers, Miami Dolphins, Carolina Panthers, Eagles and Brown before coaching quarterbacks for the Eagles and serving as the Kansas City Chiefs' offensive coordinator under current Chiefs Head Coach Andy Reid.
"He played the position," Davis said. "You think he's not going to take care of Trevor Lawrence? He's going to make sure that the best happens with him. It's a home-run hire."
While Jaguars Owner Shad Khan this week paused his plans to hire an executive vice president of football operations, General Manager Trent Baalke said plans very much remain to add people to the personnel department: "We're all on the same page when it comes to making this organization better and what's it going to take to make it better and at what level do we need to add some people? We do need to add some people. We need to add more depth on the personnel side. Is that going to come in the form of an assistant general manager, a vice president of player personnel? That all remains to be seen, but we will be adding some pieces to the puzzle as we move forward."
Pederson on building culture: "It's so important in any organization. There are so many facets of the organization. You're not just talking coaches and players. There are so many things that go on. We all have to be on the same page. I really think that's important to the success of the team and the players. That's just focusing on the team and making sure we have the right guys on the roster is all part of that. I'm not really worried about what has happened in the past. It's about what's going forward and trying to build that same type of chemistry and culture within the organization. It impacts me personally, but I think it can impact the entire building moving forward."
Baalke on the Jaguars possibly using the NFL's franchise tag as free agency approaches: "We have one tag to use. Will we exercise it? That remains to be seen. It's our advantage to use it if needed. If we don't need to use it, we won't."