INDIANAPOLIS, Ind. – When it comes to quarterback, the future is the thing.
Jaguars Head Coach Doug Pederson has made that clear discussing Trevor Lawrence in recent weeks, and he reiterated that thought this week.
"Last year is last year – and we're starting fresh, starting new, and we're starting from the ground floor," Pederson said Tuesday at the NFL Scouting Combine.
Pederson, hired as the Jaguars' head coach on February 4, spent much of the last month ensuring that the fresh start is positive. Toward that end, he has hired a quarterback-centric offensive staff that includes four former quarterbacks: quarterbacks coach Mike McCoy, pass-game coordinator Jim Bob Cooter, offensive coordinator Press Taylor and assistant quality control coach Tyler Tettleton.
"It's so important to surround him (Lawrence) with guys who have been in his shoes, guys who have walked the walk," Pederson said. "It's going to be very beneficial for Trevor and his growth. I just think that's very important for him and for me to have guys who can kind of carry the same message within that room."
Pederson's background as a longtime NFL backup gives the Jaguars five former quarterbacks and four former NFL offensive coordinators on staff.
"You have to be careful with too many people in there," Pederson said. "At the same time, the fact that we have knowledgeable guys … and it's how we manage that [quarterback] room. Not everybody's going to be in that room. I'm not going to have four or five coaches in there; I don't want that.
"It's coming through me and we're all speaking the same language. There's a lot of good talent there, a lot of guys I'm happy I was able to get. I'm looking forward to them working with Trevor."
General Manager Trent Baalke on Tuesday discussed the importance of building around Lawrence.
"We have to protect him better and we have to get more explosive players around him – guys that can make explosive plays," Baalke said. "It is tough in the National Football League to move the ball 14 plays, 15 plays, 16 plays and score. It just doesn't happen that often. You have to be able to throw a seven-yard dig and turn it into an 80-yard touchdown. You have to have players that can do that.
"That is the mission this offseason in free agency and the draft – to get more explosive players on both sides of the ball, guys that can change games. That is what you win and lose football games with."
Pederson spent 2016-2020 as the Philadelphia Eagles' head coach, coaching the Eagles to playoff appearances in 2017-2019 and to a Super Bowl title following the 2017 season. Eagles quarterback Carson Wentz had his best season in his second season in 2017, and Pederson in the last month has discussed the possibility of Lawrence improving in Year 2.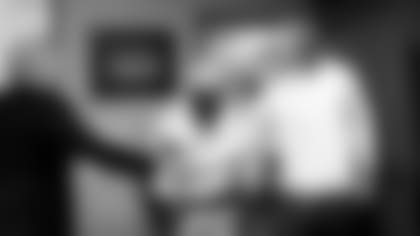 "The short conversations that Trevor and I have had is the fact that he has an offseason now to relax," Pederson said. "It's hard on these young kids that are coming straight from college into this whole sort of rat race with all the moving parts through training camp and a regular season, there's no downtime. Now, he finally has time to really focus on what he did last year but at the same time kind of rest and heal and really put a good plan together for how we want to attack this season."
Lawrence, the No. 1 overall selection in the 2021 NFL Draft, threw 12 touchdown passes and 17 interceptions as a rookie.
"That's what I'm excited about and that's why just moving forward – big picture – that's the great thing about taking over with having a young quarterback," Pederson said. "Much like we did in Philly with Carson and how in his second year we saw the growth and everything in him. Trevor is coming into that second year this year and looking forward to working with him this spring.
"I think the sky is the limit. Obviously, we have some work to do. Nothing is perfect and we're looking forward to that."
Baalke said while the Jaguars' offseason coaching search means the coaching staff is a few weeks behind in terms of its offseason approach, the same is not true of the personnel department's draft and free-agency preparation. "It is getting the coaches up to speed with where we are at and they are working tirelessly to get there," he said. "We are a little bit behind in terms of where we would normally have the process done from a coaches' standpoint, but not from a personnel standpoint. I think we are in really good shape."