JACKSONVILLE – This was the right gesture at the right time for the right place.
Combine that with a multitalented player, and you have a memorable impact to a cause that matters very much to a team and a community.
The Jaguars have pledged $250,000 for Lift Ev'ry Voice and Sing Park, the team announced Thursday. The park honors James Weldon Johnson and John Rosamond Johnson, brothers and Jacksonville natives who wrote Lift Ev'ry Voice and Sing – often called the Black National Anthem – at their home in Jacksonville's LaVilla neighborhood between 1900 and 1905. The park will be at 120 Lee Street in Jacksonville.
Marvin Jones Jr., a wide receiver who signed with the Jaguars in March, recently performed Lift Ev'ry Voice and Sing at the historic Ritz Theatre and Museum in honor of the 150th anniversary of the birth of James Weldon Johnson's on June 17.
"It's very heartfelt," Jones said. "Growing up in the church, we sang this song as well. It just brings back memories, especially on this stage. It's very heartfelt and very powerful. All your ancestors and your people are intertwined within this song.
"It's very deep. I'm just glad I had the opportunity to sing it."
Ritz Theatre and Museum Administrator Adonnica Toler said the song, Lift Ev'ry Voice and Sing, has been performed at the Ritz often – and a Lift Ev'ry Voice and Sing exhibit is "still our crown jewel." The song has been celebrated at the Ritz since its 1999 reopening.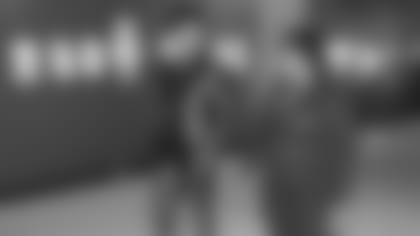 "We're really proud that we are part of that process of getting people to recognize the legacy of the Johnson brothers and that song's connection to Jacksonville," Toler said. "Having that performance here definitely adds to the rich legacy of what has been celebrated, documented and promoted for years."
Said Jaguars Vice President of Social Responsibility and Impact T-Neisha Tate, "To bring him to historical LaVilla and have him sing the song on a stage where so many artists who the Johnson brothers paved the way for have performed – and to have him pay homage to Mr. Johnson on his birthday – it just felt right.
"Marvin was amazing. . This was a perfect tribute."
The song – originally a poem by James Weldon Johnson and set to music as a hymn by John Rosamond Johnson – was inspired by a sculpture of the same name. That sculpture, also known as "the Harp," was a plaster sculpture by African-American artist Augusta Savage, who was born in Green Cove Springs near Jacksonville.
"You can't tell that story or sing that song without paying homage to Jacksonville and the historic LaVilla neighborhood," Tate said. "Lift Ev'ry Voice and Sing showcases more than just Jacksonville. It highlights Northeast Florida at its finest. It's just an amazing story, and for it to be a national anthem that speaks to so many people across our country – and knowing it started two miles from our stadium – is just amazing."
James Weldon Johnson, who attended Stanton Elementary School in Jacksonville, became the principal at Stanton and converted Stanton into a 12-year school – and Lift Ev'ry Voice and Sing was first performed there while Johnson was principal to celebrate Abraham Lincoln's birthday.
Tate called the $250,000 pledge to Lift Ev'ry Voice and Sing Park part of the team's greater commitment to its Inspire Change work, which began in the summer of 2020 when Jaguars players committed to cultural change.
"Part of that is just celebrating people in our community who have advocated for change and who have advocated for education."
Construction on the park is scheduled to begin in 2021, with the Jaguars' contribution going toward the construction of the project's fountain. The project is being overseen by the Jessie Ball duPont Fond with support from the City of Jacksonville and several community partners and individual donors.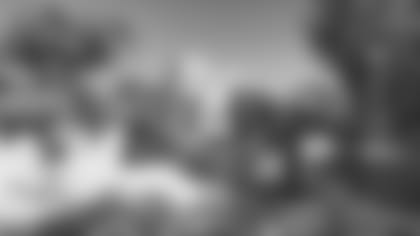 "This commitment by our City's premier sports franchise is another powerful celebration of the importance of our built environment reflecting our rich multicultural history," said Mari Kuraishi, President of the Jessie Ball duPont Fund, which is leading fundraising efforts for the park. "We are grateful that the Jaguars have joined a group of passionate supporters, including the City of Jacksonville, TIAA Bank, and the Chartrand Family, to take this step toward more inclusive public spaces in Jacksonville.