The week around the Jaguars has been very, very good and very upbeat.
Friday's news was a little different.
Daryl Smith, the Jaguars' starting outside linebacker who spent the week trying to return from a groin injury, has been ruled out and will not play against Oakland Sunday, Head Coach Mike Mularkey said on Friday afternoon.
Mularkey said there was no setback, but that Smith was simply not ready to play.
"He's just not ready to go yet," Mularkey said as the Jaguars (1-4) prepared to play the Raiders (1-4) at O.co Coliseum Sunday at 4:25 p.m.
Smith, the Jaguars' all-time leading tackler, has yet to play in the preseason or regular season after sustaining a groin injury early in training camp. He sustained a setback the week of the regular-season opener against Minnesota.
"He's just not ready right now," Mularkey said of Smith, adding that he remains hopeful that Smith will be able to play next Sunday at Green Bay.
Kyle Bosworth has started the first five games in Smith's place, with rookie Julian Stanford getting more repetitions at the spot in the Jaguars' final game before the bye, a loss to the Chicago Bears.
Jaguars middle linebacker Paul Posluszny said while the absence of Smith hurts, the team won't change its approach with the situation extending another week.
"We've been playing with it so far," Posluszny said. "Obviously we were all excited with even the opportunity of having him back. We're going to continue to have to play without him. The guys we have, they'll step up and do their best. You can't replace Daryl Smith, but the guys who are in there will step up and do the best job they can."
Mularkey on Friday also said it will be at least another week before defensive end John Chick is ready to be moved to the active roster. He has been on the Physically Unable to Perform list since training camp with a patellar tendon injury, and returned to practice this week.
Chick can be activated any time in the next three weeks, but Mularkey said he would not be ready against Oakland.
"I was pretty impressed with John," Mularkey said. "He's still on PUP. We just worked him in individual drills, one on one. He did pretty well. He was good for the first week. We'll see how he is next week."
Mularkey said he expects Chick to be activated in the next three weeks barring a setback.
Smith was one of three Jaguars players declared out on the Friday injury report, with wide receiver Laurent Robinson (concussion) and safety Dwight Lowery (ankle) also ruled out. Defensive end George Selvie (knee) and safety Dawan Landry (knee) were listed as probable.
Landry worked full Friday after being limited Wednesday and Thursday.
Mularkey said the team feels good about newly-signed veteran Chris Harris, who will open Sunday in a reserve role. Second-year veteran Chris Prosinski is expected to start in place of Lowery alongside Landry.
Mularkey also said he believes the team benefitted from a post-bye change in the schedule. The Jaguars this week shifted the schedule back a half hour to give players added rest and recovery time.
"We're always trying to think about their health more than anything," Mularkey said, adding that overall the team had a good week of preparation following the bye week.
"It's been upbeat," he added. "No question about it, and it could easily not be. I've been in a situation where we didn't have a good record. These guys are staying upbeat. They're focused. They know there's a lot of football to go. You look at the AFC and what could happen. They all realize the big picture."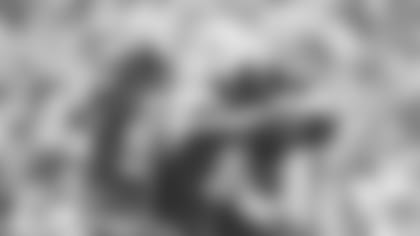 news
Doug Pederson Optimistic as Jaguars Prepare to Play the Texans
Head Coach Doug Pederson as the Jaguars (1-1) prepared to play the Houston Texans (0-2) at EverBank Stadium Sunday: "Guys have had a couple good days; it has been a good week..."