JACKSONVILLE – A day after, senior writer John Oehser examines the Jaguars' 30-16 loss to the Houston Texans in a 2021 Week 15 game at TIAA Bank Field in Jacksonville Sunday
1. The streak continues … The Jaguars ended a franchise-record 20-game losing streak in October with a victory over Miami in London, then had a mini-surge when an upset over the Buffalo Bills gave them two victories in three games. They're streaking in the wrong direction again, with Sunday being their sixth consecutive loss.
2. … and the frustration is real. Jaguars rookie quarterback Trevor Lawrence: "It's definitely frustrating. All the guys are frustrated. We want to be more consistent. We want to win. We all have to play better. You've just got to look yourself in the mirror and figure out how to get better."
3. Mistakes remain a problem. The Jaguars committed just four penalties Sunday, but one – a hands-to-the-face on defensive lineman Adam Gotsis – came on a punt to extend the first Texans drive and led to a touchdown. The Jaguars also dropped at least five passes Sunday. "The guys were ready," Interim Head Coach Darrell Bevell said. "They were into it. We just didn't play a clean football game today." Bevell on the Gotsis penalty: "We're off the field. We get a penalty that doesn't need to happen, and we have to clean those things up. We've got to make sure the guys understand that because again, we're killing ourselves, and it's going to continue to happen unless we clean that up."
4. Bevell is bothered by the drops. Bevell: "We have to play clean football. When you get your opportunity to make a play, you've got to make your play. These guys are professionals, we talked about it before, and we have to catch the ball. That's your job. A receiver, his description is to receive, so he needs to catch the ball."
5. Slow starts remains a big issue … The Jaguars allowed a touchdown on the opponents' first drive for a third consecutive game Sunday. The last time the defense held the opponent without points on the opening drive: a Week 5 loss to the Tennessee Titans at TIAA Bank Field.
6. … and so do early deficits. The slow defensive starts have conspired with a struggling offense to cause the Jaguars to always be facing deficits. The Jaguars haven't led since beating Buffalo November 7. They have trailed by double digits in the first half of every game since.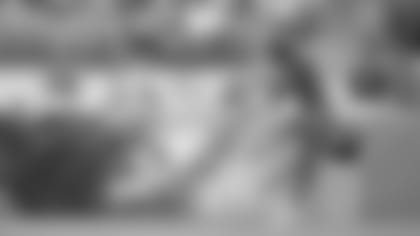 7. The offense improved in spots offensively … The Jaguars improved incrementally offensively Sunday, producing 296 yards after being held under 200 yards in each of the previous two games. The offense produced extended scoring drives of 75 and 79 yards for a field goal and an early touchdown, the Jaguars' best offensive start in weeks – and the first quarter or so Sunday had a shoot-out feel. "I thought there were things we did better today," Bevell said. "There was a little bit of an explosion. It's just on us to continue to improve."
8. … but not nearly enough. The offense struggled after the solid start, being held under 10 yards on six of the next eight possessions. After scoring 10 points on their first two possessions, the Jaguars managed just two field goals on their last nine. "I thought we moved the ball a lot better on offense today, took a step in the right direction," Lawrence said. "But we've just got to make plays down the stretch when we need them, third, fourth quarter. I've got to make the throws, guys got to make the catches. It's all of us. We've got to make more plays." Lawrence added, "It was nice to see us moving the ball again like we were earlier in the year. That was a step in the right direction, but we've got to finish."
9. Lawrence's struggles continue. Lawrence, after three consecutive games with a passer rating over 90, has been under 82 in all seven games since – and he completed 22 of 38 passes for 210 yards with no touchdowns and no interceptions Sunday. He has thrown one touchdown pass in the last seven games, as a lack of weapons and accompanying decline in confidence appears to have affected his accuracy and consistency.
10. Lawrence remains focused. Lawrence on the final three games: "I'd just like to see us be more consistent. That's me included. We've all got to do our parts, and we've just got to take ownership of it and go be better. That's what I'd like to see the next few weeks, and it starts with all of us."
11. Campbell continues to improve. Rookie cornerback Tyson Campbell may be the Jaguars' most improved player in the last month. After struggling early in the season playing the ball in the air, Campbell has played at a high level recently and registered his second career interception Sunday.
12. Calmer is better. With the tenure of former Head Coach Urban Meyer now a memory, Lawrence on Sunday was asked about the possibility of having a "normal" week without drama: "It'll be nice. We've got to flip the page. We've got to move on. It'll be nice just to move on and to go into this week somewhat normal. I think that'll be good for us, but we've just got to keep that focus."
13. J-Rob is still J-Rob … Second-year running back James Robinson wasn't spectacular Sunday, but he was productive as usual with 75 yards and a touchdown on 18 carries.
14. … and Cooke is still good. If the Jaguars have a Pro Bowl candidate, it's punter Logan Cooke. His day Sunday: Five punts for a 47.4-yard average with a 41.2-yard net and one punt downed inside the 20.