JACKSONVILLE – He could have quit. More than once.
That's one thing to know about Jaguars wide receiver Jaydon Mickens – whose NFL journey has included multiple NFL stops, a Super Bowl ring and two stints in Jacksonville. Here's what else to know:
Quitting just isn't his way.
"That's basically how I'm wired," Mickens said this week as the Jaguars (2-10) prepared to play the Tennessee Titans (8-4) at Nissan Stadium in Nashville, Tenn., Sunday at 1 p.m.
"You tell me I can't do it; I'm going to show you that I can do it – ten-fold."
Mickens, 27, is in his fourth credited NFL season. But this is his sixth season around the NFL, having spent time with the Oakland Raiders in 2016-2017, the Jaguars in 2017-2018, the Carolina Panthers in 2019 and the Tampa Bay Buccaneers from 2019-2021.
He made an AFC Championship Game with the Jaguars in 2017.
He won a Super Bowl with Tampa Bay last season.
He also has been waived six times, gaining along the way a perspective on the NFL – and an awareness of what is necessary to stay there. Mickens has 15 career NFL catches for 145 yards and two touchdowns, but his career has been built on special teams – and not just returning, though he has an 8.1-yard career average and a touchdown on 65 punt returns and a 23.7-yard average on 31 kickoff returns.
"I really play every special teams known to man besides blocking on kickoff return," Mickens said. "Once I do get those reps and hone in on those responsibilities, I keep my ears open to other things that I may not do for the team I'm on – but if I go to another team, they'll put me there."
Mickens (5-feet-11, 170 pounds), who played collegiately at the University of Washington, originally signed with the Oakland Raiders as an undrafted free agent. And while he said his lack of prototypical size means he's seemingly always fighting for a roster spot, he said accepting that allows him to continue earning those spots.
"I have to understand and respect the game," Mickens said. "You can look at it like, 'Woe is me. I'm down.' Or I can play with my back against the wall and my name will raise to a different level. It's E plus R equals O: Event plus Response equals Outcome.
"Whatever event I have in my life, I'm going to respond to it in a positive way because I'm going to get a positive outcome no matter what. If I'm at home for two weeks, somebody's going to call and 'Boom, I'm going to be right in the starting lineup.'"
That approach helped him in his latest transition.
Mickens, who played 10 games for the Jaguars in 2017 and another six in 2018, signed with the Carolina Panthers in 2019 but was released and played one game for the Buccaneers that season. He played 10 regular-season games last season for the Bucs and was active in all four postseason games, including their Super Bowl victory.
He was on the Buccaneers practice squad last month when the Jaguars called following a season-ending hip injury to wide receiver/returner Jamal Agnew. Mickens drove to Jacksonville, slept three hours and practiced the next day – returning three kickoffs for 74 yards and two punt for 29 yards the following Sunday in a loss to Atlanta.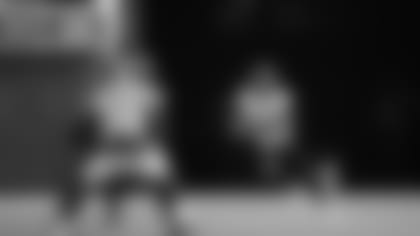 "If was crying, beating myself on the head and telling people I can't do it, I probably wouldn't have done it and this team probably wouldn't have kept me, either," he said. "It's a mindset and attitude of responding to adversity when it comes our way."
Mickens said he appreciates every NFL opportunity and every NFL paycheck and said he believes every opportunity – and indeed every game – is to be savored.
"Coming to work having fun doing what I'm doing, you can't pass this up," he said. "Every year, I'm always on the bubble. Every year, my job is to put the organization, the owner, the coaching staff on the hot seat. If you get rid of me, you're going to be sick that you got rid of me and then you'll want to bring me back.
"Understanding I can do this and can be at the top of my game really just pushes me no matter what they say. As long as I keep proving myself right … I'm six years in and will probably be longer at what I'm going. The preparation, the attitude and the mindset that comes with loving the game of football really keeps me around and keeps me going."