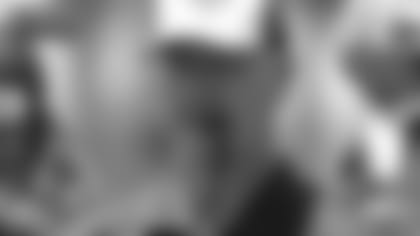 JACKSONVILLE – Here's What We Learned in Week Two of Jaguars 2014 organized team activities at the Florida Blue Health and Wellness Practice Fields …
1. Gus Bradley liked Week Two of OTAs.OK, so the Jaguars' Head Coach wasn't nuts about the start of 2014 Organized Team Activities, Week Two. He was displeased enough with the tempo of practice Monday that he gathered the players in the middle of practice and told them as much. Bradley believes strongly in improving every day, and he said there's a way "getting better" looks. What he saw early Monday wasn't that, but by Thursday he said the tempo and productivity improved significantly. Overall, the Jaguars during OTAs have a feel of a team ahead of where it was last year in terms of talent and understanding what Bradley wants. That's not unexpected in Year Two, but if you're a Jaguars fan, it's still what you want to see.
2. Allen Robinson is going to miss some time. The rookie second-round wide receiver is expected to miss a few weeks with a hamstring injury. That's not ideal, but neither is it tragic. Robinson, like all rookies, will spend the next few weeks learning the offense, and a lot of that will be meetings and video study. It would be better if he was on the field, but missing time now is better than later.
3. The wide receivers are nicked.But that's all they are, for the most part – nicked. The Jaguars had seven receivers miss time this week with injuries – Cecil Shorts III, Marqise Lee, Robinson, Mike Brown, Ace Sanders, Tandon Doss and Lamaar Thomas – and all seven were out on Thursday. That caused some to see the situation as a mini-disaster or worse, but none of the injuries are thought serious. Deep breaths, everyone. Is it early June? Why, yes it is!
4. Chad Henne continues to be impressive.Bradley has gone out of his way on multiple occasions during the first two weeks of OTAs to praise Henne. Bradley said the veteran quarterback has looked sharp and he talked Tuesday about Henne piling good practices on top of one another. He said Thursday Henne has done that throughout the first two weeks. That's what the Jaguars wanted to see when they re-signed him in free agency.
5. Blake Bortles needs time …Bortles, the No. 3 overall selection in the 2014 NFL Draft, struggled at times Monday, and that wasn't his first imperfect practice during this offseason. When discussing Bortles' performance Monday, Bradley called the rookie quarterback "OK" and said the time off attending the NFL Players Association Rookie Premiere late last week perhaps hurt his timing.
6…. which was exactly what was expected.All that stuff we said in No. 5? That was EXACTLY what the Jaguars expected from Bortles, and exactly what is expected from most rookie quarterbacks. Jaguars General Manager David Caldwell said throughout the pre-draft process the quarterbacks in this class weren't ready to start. That included Bortles and that was why re-signing Henne was a priority. It's also why you don't draw hard, fast conclusions from OTAs. What's going on at the Florida Blue Health and Wellness Practice Fields isn't a finished script. It's a rough draft where edges are … well, edgy. It should be considered as such.
7. Bortles has the right approach.Perhaps the most important thing about Bortles' storyline this week came when he approached Bradley following Monday's practice. He told Bradley he didn't think he had a good practice, and asked for input. He then worked with offensive coordinator Jedd Fisch and quarterbacks coach Frank Scelfo and had a better practice the following day.
8. Bortles made progress this week.By the third OTA of the week Thursday, Bradley was praising Bortles, saying his body language and approach had improved significantly. He called Thursday a significant step for the rookie quarterback.
9. Chris Clemons is in town. He arrived Monday. He practiced Monday, Tuesday and Thursday. That meant the sky – contrary to the reaction of some while Clemons missed the first week of OTAs – wasn't going to fall. This story quieted considerably once Clemons arrived, but he did nothing wrong by missing voluntary workouts -- and as a veteran experienced in Bradley's defense, there's a limit to what he's going to learn in the offseason. The coaches like him being here, but there won't be many aftereffects of the week he missed.
10. The Jaguars like the progress of the offensive line. Left tackle Luke Joeckel is showing progress, and the Jaguars not only like how third-year center Mike Brewster is performing this offseason, they love what left guard Zane Beadles has brought. Bradley also has talked about the level of trust the team has in swing tackle Cameron Bradfield and in right tackle Austin Pasztor. This group still has to sort out depth and find a starter at right guard, but looks in better shape than a year ago.
11. The fans are continuing to embrace this thing.The Jaguars drew nearly 2,000 fans to Thursday's OTA practice, the only session of the 10 OTAs open to the public. That wasn't as many as attended the recent rookie camp. That drew more than 2,000 and 6,000, but those numbers were Friday and Saturday. Nearly 2,000 people at a Thursday morning OTA. That's impressive, but not surprising this offseason.
12. There's still a long way to go in the offseason.Two weeks down, two weeks to go. The Jaguars' four practices next week – Monday, Tuesday, Thursday and Friday – close out OTAs, with all four closed to the public. The team's veteran minicamp is the following week, June 17-19, with the June 17-18 practices open to the public.