Jaguars WR DJ Chark Jr. drew on his passion for giving back at the Tim Tebow Foundation's "Night to Shine" prom on Friday, Feb. 7 at VyStar Veterans Memorial Arena in Jacksonville and left with some key lessons he plans to translate to the field in 2020.
"I've seen some great dancing here," DJ said on stage as he addressed the program's attendees. "I might have to steal some of your moves for a few touchdown celebrations this season." Jaguars WR DJ Chark Jr.
"Night to Shine" annually celebrates special needs children and adults during an unforgettable prom experience. Created by former NFL player Tim Tebow, Jacksonville's prom was one of more than 700 around the world last weekend and welcomed approximately 1,000 special guests for the grand occasion.
Guests are treated to limo rides, makeup, karaoke, dancing and a red-carpet experience as they enter the arena. All guests are paired with a volunteer and enjoy a variety of activities, although the dance floor and the karaoke room tend to be the most popular choices.
"It was a lot of people coming together to have their night. It's a group effort, but everyone gets their own individual shine," DJ said. "That is the best part about the event. Everybody felt like it was for them."
For DJ, having the opportunity to spend time with the special needs community was especially impactful due to his personal connection to the cause. His girlfriend, Chantelle, has a brother with autism. Along with spending time with him, DJ volunteered for a special needs event while he was a student-athlete at LSU.
DJ has continued to give back since arriving in Jacksonville in 2018, spending time with students at the Jericho School for Children with Autism.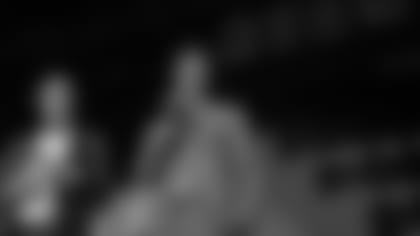 "I was introduced to the cause of special needs in college," DJ said. "I got into it and the smiles that come on their faces when someone takes time out for them – you can't replace that any kind of way. That is something that money can't buy."
At the conclusion of the event, all guests are shown a video message from Tebow and given a crown or tiara as they are all named "king" and "queen" of the prom. Along with teammate P Logan Cooke, Chark went on stage prior to the crowning and expressed his gratitude for everyone who attended and pumped up the crowd.
"It was a big deal for DJ to be there," Juanita Hamilton, a member of the church, Eleven22, and one of the program's organizers said. "It was really special that you could tell his heart was in it. He brought his girlfriend, and I know they have a connection to special needs. He knows exactly what this is about. It speaks to his heart that he would come and make an appearance. It speaks volumes to what a gentleman and what an amazing person he is."
Less than a week removed from his first Pro Bowl appearance, DJ stressed the importance of being involved and said he plans on continuing to be a familiar face for the special needs community.
"When football is over, the community will always be there and it's nice to develop a good relationship with them now," DJ said. "For me, it gives me something else to do to show that not only I am a wide receiver for the Jaguars, but I am a friend and I'm somebody that is willing to help anytime that it is needed. That is the best feeling there is."