The Jaguars were delighted to welcome 200 lucky UK fans to their open training session today, giving them a chance to meet their heroes and get an exclusive behind the scenes glimpse of the team's pre-game preparations.
The Jaguars had rewarded members of the Union Jax fan club with the opportunity to win a limited number of spaces at the training session, held at Allianz Park in north London. As usual, the fans were in fine form, providing a back drop of black, gold and teal as they cheered the team from the stands.
After running through their drills, in preparation for the game at Wembley Stadium against the Buffalo Bills, head coach Gus Bradley led his men along the line to greet and chat with their UK fans.  Players including Blake Bortles, Jared Odrick and Julius Thomas were more than happy to spend time chatting with fans and posing for photographs, clearly enjoying the opportunity to meet their UK fan base.
And having come for this third visit to London in as many years as head coach of the Jaguars, Bradley admitted he was still taken aback by the level of support for his team across the pond.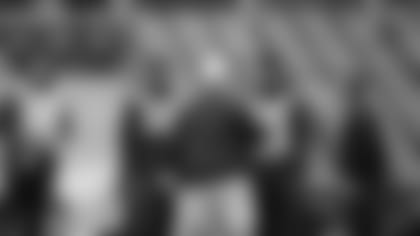 Jaguars wide receiver Allen Hurns admitted he was still taken aback by the level of support the team received from their UK fans.
"We know what the drill is in terms of coming to London, going through meetings and practicing and things like that but to see the fans come out to support us is always great," he said.
"The fans taking the time to come out and support us even when it isn't a game day puts a smile on my face. It is great that these guys are sticking with us through thick and thin, honestly the UK fans are amazing.
"You don't find people who will support you no matter what every day so I can only say a big thank you to the fans over here."