JACKSONVILLE – Jaguars 2023 Training Camp continued Thursday.
It was the second day of the second training camp under Head Coach Doug Pederson, featuring an unpadded practice at the Miller Electric Center. Each day throughout camp, four members of Jaguars Media – senior writer John Oehser, senior correspondent Brian Sexton, senior reporter/editor J.P. Shadrick and team reporter Kainani Stevens – will share an observation.
Here are Thursday's "campservations:"
John Oehser, Jaguars Senior Writer…
Day 2 had an early-camp feel, with highlights relatively rare. Those will increase when padded practices start Monday. One highlight came off the field, with offensive coordinator Press Taylor among multiple Jaguars coaches wearing a shirt that read "Jacksonville Jaguars O-Line 31st" in apparent response to ESPN Analytics recently ranking the line 31st in the NFL "pass-block win rate" last season. "I think [offensive line coach] Phil [Rauscher] kind of had something to do with it," left tackle Cam Robinson said. "It was kind of like a group thing from everybody in our room." Added Robinson, "It definitely puts a little chip on our shoulder, but if I just have to be honest, we're kind of used to that. Playing in Duval, I think as a team, that's kind of an uphill battle we face every year. We have a narrative we have to flip. We're in the process of doing that right now."
Brian Sexton, Jaguars Senior Correspondent …
It still feels a lot like organized team activities on the practice field. That won't change until next week when the pads come on, so it's tough to tell what's happening with the big guys. That didn't stop me from focusing on first round draft pick Anton Harrison, who is plugged in at right tackle. He spent a lot of time leaning on five-time Pro Bowl guard Brandon Scherff – and Harrison told me after practice that Scherff has made a huge difference in his ability to pick things up. The rookie is a quick study. So far, he has looked as if he will plug right into Jawaan Taylor's former spot and make it his own.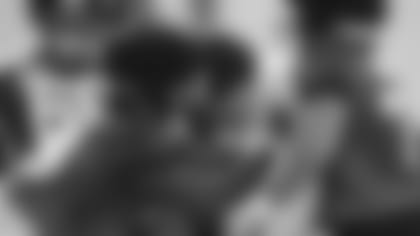 J.P. Shadrick, Jaguars Senior Report/Editor …
The ramp-up period continues in the first few days of camp, and kicker Brandon McManus hit a 64-yard field goal in warmups Thursday. Day Two was not as crisp as the first day for the offense with a few drops here or there. Quarterback Trevor Lawrence's command of the base offense continues to show with good throws and smart decisions. The first day of full pads is scheduled for Monday. That's when we will really start finding out what's going on in the trenches.
Kainani Stevens, Jaguars Team Reporter/Producer ...
Day 2 of camp brought everything back down to earth. The offense struggled at times to operate smoothly. We saw a fair share of drops and a few overthrows from Lawrence. However, this is the perfect time to work out the kinks. Looking forward to the pads going on soon.