JACKSONVILLE – It's a familiar message, but one that matters.
It's also one wide receiver Christian Kirk said he has made sure teammates heard this week with the Jaguars having lost three consecutive winnable games following a 2-1 start to the 2022 season:
"There is still a lot of opportunity," Kirk said. "You can make your season however you want to make it."
Kirk, who signed with the Jaguars as an unrestricted free agent this past March, joined senior writer John Oehser for this week's 2022 Week 7 O-Zone Podcast. Among the topics: The work ethic/approach that has impressed Jaguars teammates, the new feeling around the organization and a relationship with quarterback Trevor Lawrence that has developed quickly in seven months.
"It was pretty immediate," he said of his friendship with Lawrence. "We're both kind of laidback, calmer, cooler guys. He was here the day I came and signed. Once I got here, we spent a lot of time at the golf course, and texting back and forth. My fiancé (Ozzy Ozkan) and his wife (Marissa) are really good friends.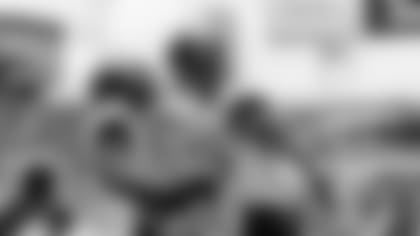 "There are a lot of similarities there. It has been able to grow fast. Then, when we get on the field and talk football, that line of communication just makes it that much easier."
Kirk, originally a second-round selection by the Arizona Cardinals in the 2018 NFL Draft, has 25 receptions 362 yards and three touchdowns in six games this season. He has 261 career receptions for 3,264 yards and 21 touchdowns.
"Some guys just enjoy being in the NFL, being able to put on a jersey on Sunday and play a couple of snaps," Kirk said. "That's not the case for me. I don't play football to be average. I play football to be great at what I do. That's what drives me."
Kirk and Lawrence are core players offensively, leaders on a team that has won half as many games in six weeks as it did in the past two seasons. Kirk said that improvement reflects a change he has sensed throughout the offseason, training camp and regular season.
"This is a different team and a different culture," he said.
And while the team has struggled to win close games this season, with all four losses by a score or less, the fifth-year veteran said his message to younger teammates remains consistent.
"It's a long season,'' Kirk said. "There are 17 games now. When you're doing it and you're preparing week in and week out, it's a long season. You have guys who just came from college and that's almost two college football seasons if you count preseason.
"With the leadership, we have in our locker room, there's no panicking. There's no hitting the panic button. There's none of that."
Click below to listen to the entire O-Zone Podcast with Kirk.