The Jaguars beat the Indianapolis Colts, 26-11, in the 2021 regular-season finale at TIAA Bank Field Sunday afternoon, but the game's tone in a very real sense, was set by Lawrence – the Jaguars' rookie quarterback – immediately following a Week 17 loss to the New England Patriots.
Lawrence that day told media he didn't want offseason talk.
Rather, he wanted the focus on beating the Colts – which the Jaguars did in convincing fashion, that despite the Colts playing for a postseason spot and the Jaguars playing simply for pride.
"That's a good football team we just beat and really dominated the game," Lawrence said late Sunday afternoon. "Just really proud of our guys. Everyone was locked in, and this could have gone two different directions; it could have gone like today or it could have gone really bad knowing that tomorrow starts the offseason."
"It feels really good to finish the season this way."
It was Lawrence's most complete performance of the season. He completed eight of eight passes on the opening drive, which he capped with a two-yard touchdown pass to wide receiver Laquon Treadwell. That was the Jaguars' second opening-drive touchdown of the season.
Lawrence on Sunday completed 72 percent of his passes for 223 yards with two touchdowns and a passer efficiency rating of 111.8.
"This week I think I did a good job of calming myself down, preparing the right way," he said. "Not letting anything get in my psyche and just trying to be myself and playing the way I know how to play, to play the way that got me here. I had flashes of it this season but it's all about consistency and I really wanted to finish the year with confidence and just show this is who we can be, this is who I can be, this is who I am and like I said confidence is so important and it was a good week."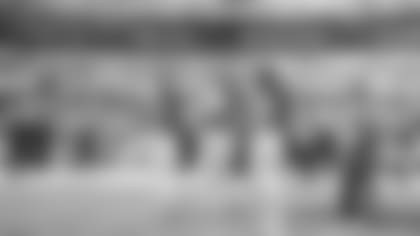 Wide receiver Marvin Jones Jr., a 10-year veteran, has been Lawrence's go-to guy this season and a mentor of sorts.
"We had a great game plan and he's been looking great all week, confident and comfortable," Jones said. "He told me when he left the field from warmups, 'Oh, yeah. You better be ready to run because I'm going to sling it.' I was like, 'Oh, yeah. You better sling it because I'm going to be running.' He felt great and everybody was comfortable and confident in letting loose."
Lawrence, the No. 1 overall selection in the 2021 NFL Draft, was asked if momentum from Sunday can carry forward.
"Hundred percent," he said. "It feels good and that's definitely some momentum we want to build on."
The Jaguars' defense on Sunday registered a season-high six sacks of Colts quarterback Carson Wentz, who plays behind an offensive line many consider the best in the NFL. The Jaguars also held Colts running back Jonathan Taylor, the NFL's leading rusher, to just 77 yards and twice stopped Taylor on 4th-and-short situations. "We just came out and did what we had to do," said defensive lineman Adam Gotsis, who registered a sack and was in on both fourth-down stops of Taylor. "It's a bit disappointing that it's the end of the season and you finish with a game like that. But it's also a lot to build on, a division game and to knock them out (of the playoffs) a lot to build off coming into next year."
Cornerback Shaq Griffin, who signed with the Jaguars as an unrestricted free agent last offseason: "Being a part of this organization changed my life. I wanted to do so much, so early for the organization, and I feel like I didn't get that done. But understand the love I have for what they have done for me, and I want to give more. So, you hear me say I want to get around Trevor, I want to get around the defense, whatever I have to do this offseason to make sure we get this tight bond so when we start we're ahead of the curve. I'm willing to do that because I love this city so much because of what it already gave me and I'm willing to do whatever it takes to get this organization back to where we need to be. So, to get this win with this momentum going into next year I hope everybody feels the same way and does whatever it takes to get better."