It was the 11th day of the second training camp under Head Coach Doug Pederson, featuring a padded practice with live tackling at the Miller Electric Center. Each day throughout camp, four members of Jaguars Media – senior writer John Oehser, senior correspondent Brian Sexton, senior reporter/editor J.P. Shadrick and team reporter Kainani Stevens – will share an observation.
Here are Monday's "campservations:"
John Oehser, Jaguars Senior Writer…
The first day of live, to-the-ground tackling in '23 camp didn't disappoint. There were a few requisite post-play skirmishes, and maybe the best part for the Jaguars was there were no serious injuries. The offense scored on six consecutive plays in goal-line work, with the first- and second-team offense both scoring on three of three plays. Rookie defensive tackle Raymond Vohasek stood out, getting good penetration on two tackles for loss – including a safety. One of the standouts of camp remains rookie running back Tank Bigsby, who again showed his versatility. He scored a touchdown in goal-line work and also showed good power on an 11-yard run from deep in the offense's territory. Bisgby's highlight of the day also was the play of the day: A long run around the left side on which he cut back against the defense and pulled away from the secondary for an 80-yard touchdown.
Brian Sexton, Jaguars Senior Correspondent …
The only truly live practice of camp might have been the best all-around practice of summer so far. It's not hard to figure out why; there's always a built-in excuse for why something doesn't go right when you're at 50 percent speed. When you're live, you cannot hide, and every player knows what he has to do to avoid feeling uncomfortable in the meeting room later in the day. You saw it on the goal line Monday in one-on-one pass rush and in every other live period of the day. Head Coach Doug Pederson would probably love to be able to practice this way more often, but the risk of injury and the salary cap just won't allow it. I enjoyed it because it felt like old-school football and because I knew I wouldn't see it again until the regular season.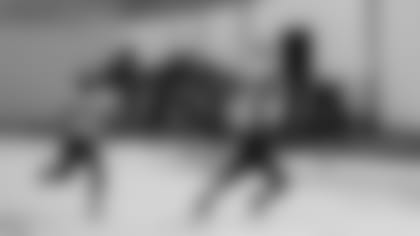 J.P. Shadrick, Jaguars Senior Report/Editor …
In the most intense practice of '23 camp yet, and the Jaguars tackled to the ground live for the first time. The first- and second-team offense was a perfect six-of-six of goal-line plays from the one-yard line for touchdowns. Bigsby looked the part again as he broke through for a long touchdown run later in practice. Rookie linebacker Ventrell Miller and Vohasek – both players who were off to the side most of the offseason program – collected notable tackles for loss throughout practice. Tempers flared at times in the one-on-one pass rush drill and another time or two in the live tackling, but for the most part the team got solid work in, without any significant major injuries. The players are off Tuesday, then back to work Wednesday as they build toward the Saturday afternoon preseason opener against the Dallas Cowboys.
Kainani Stevens, Jaguars Team Reporter/Producer ...
Monday's live-hitting practice showed us what everyone would hope to see from the 2023 Jaguars: A physical, competitive team with flashes of what the future may bring. Play of the day goes to Bigsby, who went 60-plus yards for a touchdown in 11-on-11. Rookie tight end Brenton Strange also impressed with a stiff-arm on safety Rayshawn Jenkins. Things got chippy during one-on-one pass rush offensive line and defensive line – as it expected. What stood out to me though was second-year outside linebacker Travon Walker quietly having one of his best days in camp while also staying out of the fray. Walker got pressure on quarterback Trevor Lawrence, won his fair share of one-on-one drills and showcased a nifty spin move.