JACKSONVILLE – The Jaguars will emphasize the run Sunday.
That's not new and that won't change.
And while the Jaguars haven't always been successful this season establishing the run – and running as much as planned – Head Coach Urban Meyer said the emphasis will remain.
"That's essential to who we are and how we're built," Meyer said Friday as the Jaguars (2-10) prepared to play the Tennessee Titans (8-4) at Nissan Stadium in Nashville, Tenn., Sunday at 1 p.m.
"We've played our best when we've established the run."
Running back James Robinson, hampered by heel/knee issues since a Week 8 loss to Seattle, missed practice Thursday but Meyer said Friday he is expected to play Sunday.
"James actually practiced really well on Wednesday – his first Wednesday practice in a while," Meyer said.
Robinson rushed eight times for 24 yards in a 37-7 loss to the Los Angeles Rams last Sunday, his fewest carries since his first-half injury in Seattle. Robinson lost a fumble in the second play against the Rams – his second lost fumble in two games – and missed the ensuing 20 snaps.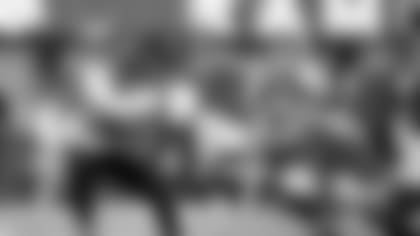 He has rushed for 678 yards and seven touchdowns on 137 carries this season, including 196 yards and two touchdowns on 49 carries in four games since his injury.
"To establish the run is really the essence of football," Meyer said. "It's certainly the essence of our football. It's how we wanted to build this thing. When we've played our better football, that's what we've done. But the bottom line is you can't hand the ball to the opponent."
The Jaguars enter Sunday ranked 17th in the NFL in rushing at 110.6 yards per game, but Jaguars running backs have lost three fumbles in the last two games – with Carlos Hyde losing a second-half fumble against the Rams.
"When you see a player like James, or Carlos [Hyde], or whoever touches the ball, who are elite fundamentally, holding the ball the way we teach it …" Meyer said. "We were [doing the correct technique] earlier in the year but we slipped and so why do you slip? We are not practicing enough, and we are not emphasizing it enough so as a coach that is all I worry about. I let other people worry about the other stuff."
Jacksonville Jaguars
Table - Injury report

| Player | Injury | Game status |
| --- | --- | --- |
Jaguars veteran center Tyler Shatley will start Sunday with veteran Brandon Linder having been ruled out Friday with a back injury. It will be Shatley's sixth start in eight games, with Linder missing five games with knee/ankle issues in October and November. "He is my MVP," Meyer said of Shatley, an eight-year veteran. "First of all, he is a good player, second of all he works every week as if he is the starter. I can't imagine a more valuable player on our team, at that position."
Linder was the only Jaguars player ruled out on the final injury report of the week Friday, with all other players who appeared on the report this week removed from the report and expected to be available Sunday. Other Jaguars players on this week's report: wide receiver Marvin Jones Jr. (Wednesday rest day), cornerback Nevin Lawson (foot), Robinson (heel/ankle), cornerback Shaquill Griffin (concussion), cornerback Tyson Campbell (groin), outside linebacker/defensive end Josh Allen (shoulder), linebacker Myles Jack (knee), outside linebacker/defensive end Lerentee McCray (illness), guard Andrew Norwell (Wednesday rest), guard Ben Bartch (back) and defensive lineman Malcom Brown (back).
Meyer on playing the Titans: "It's somewhat of a rivalry game is my understanding. I'm relatively new to it, but not that new anymore. There's a lot of competition between these two organizations. Obviously, Tennessee has had a run here. Our players feel it. I feel it. We have to do our very best."