The Jaguars' 28-22 loss to the Washington Commanders Sunday in the 2022 regular-season opener was about a lot of things. But to Lawrence, the Jaguars' second-year quarterback, it was very much about red-zone opportunities.
The Jaguars' offense squandered too many, and the missed opportunities hurt.
"It's on me," Lawrence said. "It's on all of us. Those are things we've done a million times in practice, and we just have to make a play. We have to go execute and finish. That's the thing we talk about."
The Jaguars on Sunday drove inside the Washington 20-yard line five times. They scored two second-half touchdowns on those red-zone opportunities, but three first-half opportunities there ended with a field goal, a missed field goal and a turnover on downs.
"We had two really good opportunities, both incomplete passes," Head Coach Doug Pederson said. "They were right there. We had touchdowns on both of them. I go back to the week in practice, and we hit both of those in practice. It's unfortunate.
"I know with our group, though, that they're going to make those corrections and we're going to hit those next time. And we're going to learn how to finish games like this."
Said wide receiver Christian Kirk, "That's one of the areas we struggled with throughout training camp and preseason, and we're still working on getting better. So, for us, it's just getting back to all of our things we want to do in the red zone, and I know we're going to keep progressing."
Lawrence slightly overthrew running back Travis Etienne Jr. in the right side of the end zone on the Jaguars' first series, a possession that ended with a 33-yard field goal by Riley Patterson for a 3-0 lead. Lawrence in the second quarter said he missed wide receiver Zay Jones in the end zone on a series that ended without points.
Lawrence after the game detailed the two plays and called them passes "I've got to hit:"
"The one to Travis, just overshot it a little bit," he said. "He did a really good job. He won on his route. Gotta make that one, gotta give him a chance. Zay's, they brought cover zero pressure there. So, had to get the ball out quick and then put it a little too far – give him a little more air, so he can adjust to the ball."
Lawrence called the missed opportunities frustrating.
"We gave them 11 points," Lawrence said. "We spotted them 11 points in the first half and still found a way to fight back and have a chance to win."
Lawrence added, "We can clean up all that, but we're going to be fine. I'm not worried. I'm frustrated obviously because I know we're good enough to win that game and we should win that game. It's frustrating, but we are going to get better."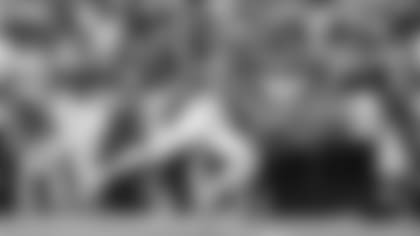 Kirk in his first regular-season game with the Jaguars caught a team-high six passes for 117 yards. "There are definitely some things I can improve on, but for the most part, I took advantage of the opportunities," he said. "I want to keep progressing."
Lawrence: "The mindset is to go win the game and finish it. For a number of reasons, we didn't. At the end of the day the final score is what matters, and it is not what it is halfway through the fourth quarter. We shot ourselves in the foot a lot. There's a lot of things we control, that we didn't do a great job of controlling. We have to play smarter all the way around, every position. There is a lot of stuff we have to work on."
Running back Travis Etienne Jr.: "We're not here for moral victories. At the end of the day, we lost. Losing sucks, and no one wants to lose. We have to put this to bed tomorrow, and get back to work, and just have to be better."
Lawrence: "This is just the first one. We have a whole season. I really love the guys we've got in that locker room. I'm not worried at all, but we definitely have to correct some things and get better. … We just have to finish. We got ourselves to the point where we can win the game, but you got to go win it. They aren't going to hand it to you."
Jaguars TE Evan Engram on the Jaguars' fourth-quarter rally: In this league, you have to find something, even to take away from the down [games], even the losses. We're gonna walk out of the locker room with our heads held high about it."
Kirk: "We shot ourselves in the foot too many times. Good teams finish games, and we've got some work to do to become a good team and finish well. I think we're close."