JACKSONVILLE – Josh Allen put it simply and succinctly.
Allen, a veteran outside linebacker, on Sunday committed two of the Jaguars' 13 penalties in their fourth consecutive loss – a game that featured multiple critical mistakes by the Jaguars in multiple critical situations.
"Unacceptable," he said. "Plays like that cannot happen. I don't want to say that started something, but it was a bad start."
The Jaguars lost 23-17 to the New York Giants at TIAA Bank Field Sunday for many reasons. The defense went a third consecutive game without a takeaway and had just one sack, also allowing 244 yards rushing – 130 in the fourth quarter. The offense produced 452 yards, but just two touchdowns and a field goal.
But mostly afterward players and coaches talked about a day that continued a season-long trend of winnable games lost with avoidable mistakes.
"That's where we're at as a team right now is we're just learning things the hard way, you know?" Head Coach Doug Pederson said. "We just have to keep hanging together and keep working. You got to keep showing them. It's not for lack of conversation and talking to them about it and stuff like that. I still want them to play hard and aggressive and all of that.
"I don't want to take any of that away from them at all, but you get in the heat of the battle sometimes, man, you just have to be cooler heads and just understand your role."
The Jaguars' 13 penalties were for 81 yards – with a pass interference penalty on cornerback Tyson Campbell, a 12-men-on-the-field penalty and an offsides penalty on consecutive plays leading to a one-yard sneak by Giants quarterback Daniel Jones and a 20-17 Giants lead with 5:31 remaining.
A roughing-the-passer penalty on linebacker Foye Oluokun in the third quarter negated the Jaguars' first takeaway since Week 4 – a would-be interception by rookie linebacker Devin Lloyd at the Giants 17.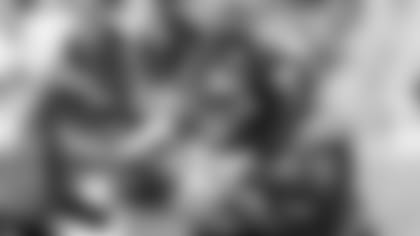 "I messed up," Oluokun said. "I let the team down there. I got my hands up and contacted him with my head. That's the call. I didn't hit him hard, but that's the call. That's on me."
The Jaguars had six drives of 60 or more yards Sunday, punting just twice. They scored 17 points, with a key moment coming when running back Travis Etienne Jr. fumbled at the Giants five. Etienne, stumbling, kneed the ball out of his grasp and Giants safety Julian Love recovered in the end zone for a touchback to preserve an 11-10 Giants lead.
"When you see the end zone, as a football player, your eyes just get so wide," Etienne said. "That's where you want to be. I was stumbling and my knee hit the ball. I was trying to gain my balance. It was an unfortunate situation. I'm in the red zone. I'm stumbling. [I should have] just put two hands on the ball and go to the ground and lived for the next play."
Allen's penalties were for defensive holding and offsides, with the holding penalty coming on a play on which he forced a fumble by Giants quarterback Daniel Jones that cornerback Darious Williams recovered. The penalty gave the Giants a first down at their 39.
"It's situational awareness," Allen said. "We have to play smarter. I can't be starting off making plays like that. I feel like the whole game we were shooting ourselves in the foot: Offense, defense. That's unacceptable. You're never going to win a game if you play like that."
Allen on the message in the locker room after the game: "Feel it. This is one we should have won. We always feel like we should win every week but feel the emotions and be in the moment right now. Don't let this crap happen again. I don't care about, 'We're getting closer and closer.' I don't care. We're still losing. We know how to be in a position to win. We've got to win."
Quarterback Trevor Lawrence: "If we can stick together, that's the only way we turn this thing around. If we don't stick together, we don't have a shot. That's one of the best things about this team is how close we are. The only thing that anybody cares about is winning. It's not about stats. It's not about someone getting the ball or a guy getting a bunch of sacks or whatever it is. It's just that everybody wants to win, and that's why people are so pissed off because we're not finding a way to do that right now. It's going to come though. I believe that and we just have to go do it."