JACKSONVILLE – It's no dead zone these days, and that's a good thing.
And an encouraging thing.
The Jaguars, after struggling near the end zone offensively during much of the first three months of the 2022 season, have improved there in recent games. And if red-zone offense isn't yet a dominant strength, it increasingly is becoming less of a liability.
That's significant as the end of the season nears.
The Jaguars, after scoring touchdowns on 50 percent of red-zone possessions through eight games, have scored touchdowns on seven of 11 red-zone possessions over the last three games. They have won two of those three games, including a 28-27 victory over the Baltimore Ravens this past Sunday.
They were 18th in the NFL in red-zone touchdown percentage through eight games and are 10th over the last three games, and quarterback Trevor Lawrence and Pederson both this week said what matters most is what the Jaguars aren't doing as they approach the opponent's goal line.
"We're not turning it over in the red zone, and that was a big stat early," Lawrence said.
The Jaguars through eight games had four red-zone turnovers – three interceptions by Lawrence and a lost fumble by running back Travis Etienne Jr. They also turned the ball over on downs in the red zone in Week 1 at Washington, losing the five games in which those turnovers occurred by a score or less.
"Taking care of the football, number one, I think can increase production, obviously points, outcomes, drives and things like that," Pederson said. "We can always get better, and we have to get better down the stretch here, but the No. 1 thing for us is taking care of the football, which we've done in the last couple games."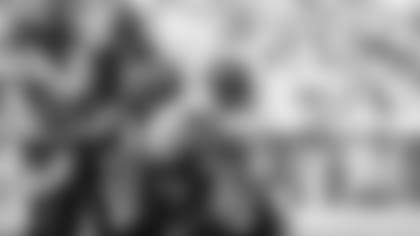 The Jaguars haven't had a giveaway in the red zone in the last three games.
"Obviously if you turn it over, that's a wasted possession in the red zone, so we've eliminated those," Lawrence said. "We talked about it a few times. Not necessarily a ton, it's just something that I've really thought about and worked on, especially in the red zone.
"You don't have to be a superhero, you don't have to try and make a crazy play, just take the points. Obviously, you want to score a touchdown on every red-zone possession, but no one's 100 percent in the whole season. You've just got to be smart.
"I think that's something I'm learning and we're doing a better job of."
Pederson on Wednesday said rookie inside linebacker Chad Muma likely will start a second consecutive game Sunday after making his first NFL start against the Ravens. Muma, a third-round selection in the 2022 NFL Draft, replaced rookie first-round selection Devin Lloyd in the lineup Sunday and registered nine tackles. "Moving forward, I think Chad did enough in that game to give him another opportunity," Pederson said. Lloyd played 37 percent of the snaps Sunday, playing mostly in a three-inside linebacker package with Muma and Foye Oluokun that Pederson said was employed because of the Ravens' unique run offense that emphasizes the running of quarterback Lamar Jackson. "I think both players are in a really good place, especially headspace right now," Pederson said of Muma and Lloyd. "They're young players, long season, six games left, and we've got to make sure that both of them are well-prepared as we make these next six games."
Lawrence: "I'm not saying I've arrived at all. I think this game is very humbling. The second you think that you have, it will humble you real quick."
The Jaguars enter Sunday trying to snap a streak of 19 consecutive losses to NFC teams. Their last victory over an NFC opponent came in Week 1 of the 2018 season at the New York Giants. "I don't get caught up in a lot of that," Pederson said. "Different team, different times, but those are real numbers, real stats. Those are things I don't talk to the team a whole lot about. We're just focused on the Lions and preparing to be ready to go."