JACKSONVILLE – Josh Allen was at TIAA Bank Field Monday and happy to be there.
The Jaguars were happy to have the veteran outside linebacker at the first day of 2023 minicamp, which made Monday a day for smiles around the Jaguars' facility.
Allen, the No. 7 overall selection in the 2019 NFL Draft, was the No. 1 storyline of Day 1 of 2023 mandatory minicamp Monday after not attending the first part of the team's offseason program. All portions of the offseason program before this week's minicamp are voluntary, which Head Coach Doug Pederson emphasized when discussing Allen Monday.
Pederson called the week an opportunity to "embrace" Allen and "welcome him back."
"It's the only mandatory part of camp," Pederson said. "I haven't seen him [this offseason]. Listen, there's no bad blood or nothing like that. It's a voluntary [offseason] program. They can do what they want to do. It's just good to get him back in this building, embrace him and get him back with his teammates this week.
"Every expectation from us was that he was going to be here [Monday]. The communication that we had prior to today was he was going to be here. It was really good to see him and for him to spend these next couple of days with us, just to see where he's at, will be good."
Allen, the Jaguars' sacks leader this past season, said he took a similar approach this offseason to last offseason – working out in Jacksonville at Rise and Grind Training and in Phoenix, Ariz., at Exos Athletic Training. Allen attended Phase 3 – OTAs and minicamp – of the 2022 offseason after being away from the team in Phases 1 and 2.
"I really wanted to focus on myself, prioritize myself, this offseason," he said. "That's exactly what I did. Obviously, I want to be here with the guys, but it was that individual growth that I needed to take."
Allen, who said his offseason focus has been "just being an overall better player," also said he had the coaching staff's support for his offseason approach.
"I called my guys," he said. "I called the coaches. They understood where I was at, what I was doing. Once I got that, it was, 'I don't need to worry about anything else after that.' They knew I was working. I'm excited to be back."
Allen, the Jaguars' longest-tenured defensive starter, is entering the final year of his rookie contract. He registered seven sacks, 11 tackles for loss, four forced fumbles and two fumble recoveries in 2022.
"I really wanted to prioritize myself this offseason," he said. "My individual growth last year wasn't good enough. Just the tape that I watched, you have to be real critical on yourself. I watched all the games and I was real critical and I knew I needed to not put that out there anymore.
"I wanted to prioritize that, and that was my main focus all season really, to work on that."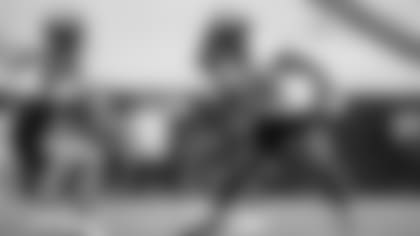 Allen also called it "a plus" to be working with the same coaching staff as last season, which was his first season playing for defensive coordinator Mike Caldwell and outside linebackers coach Bill Shuey.
"Now it's just getting the rust off," he said. "There's always room for improvement and I'm ready to take those next steps. It kind of slowed it down for me and I was definitely excited about that, to just to get back out there working with them, just to show my face."
Allen said it was good to see "a lot of smiling faces" Monday.
"I was excited to walk back in," Allen said. "I felt a positive energy when I stepped in this building again. It has been real positive around here and see the type of guys we brought in, these young guys, just flying around: Real coachable, real attentive to what they need to do.
"Everybody's ready to get challenged and I'm ready to start challenging these guys. I'm glad to be back."