JACKSONVILLE – He's a major part of the Jaguars' new direction.
Robinson, a veteran left tackle who signed a contract extension on Monday to remain with the Jaguars, said he likes the feel of a franchise that changed direction this offseason with the hiring of Head Coach Doug Pederson.
"I love what we were able to do this offseason, what we were able to bring in," Robinson said Monday, shortly after signing his extension at TIAA Bank Field. "Us bringing in Doug and of course, [second-year quarterback] Trevor [Lawrence] is awesome. I'm looking forward to Trevor taking the next step.
"I'm looking forward to us starting to build something special."
Part of that new feel: Phil Rauscher, in his first season as the Jaguars' offensive line coach after spending last season as the Minnesota Vikings' offensive line coach.
"I love Phil," Robinson said. "Phil just feels like one of the guys. When he's in the room, he feels like one of us. He does a lot of great new techniques he's showing us, things I haven't worked in a while."
Robinson, a second-round selection by the Jaguars in the 2017 NFL Draft, started as a rookie for the team that won the AFC South and advanced to the AFC Championship Game. The Jaguars have won 15 games since, selecting No. 1 overall in the NFL Draft two consecutive years after finishing with the NFL's worst record in 2020 and 2021.
"It just matures you," Robinson said. "Coming in my rookie year, and especially coming from [perennial college power Alabama] and going straight into '17, it seemed like that's how it would be every year. The years following that were kind of an up-and-down roller coaster. It taught me maturity, discipline and how to keep my head down and grind my way through it."
General Manager Trent Baalke and Pederson have talked extensively this offseason about the importance of retaining players drafted by the team. Robinson's signing makes him the second player currently on the roster to sign a long-term contract with the team after being drafted by the Jaguars.
"It feels great," Robinson said. "They wanted to keep guys who can provide great leadership and they know the guys' character. I think they know my character and they know what I bring on and off the field. I think that was essential in getting the deal done.
"I think that ultimately was one of the major things for them."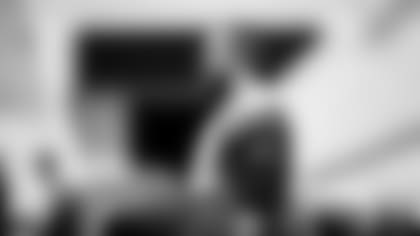 Robinson's signing helps solidify an offensive line in transition this offseason. Walker Little and Jawaan Taylor are expected to start at right tackle, with five-time Pro Bowl selection Brandon Scherff expected to start at right guard after signing as an unrestricted free agent from Washington in March.
Ben Bartch, who started 13 games at right guard last season, also returns – as does veteran reserve center Tyler Shatley. The Jaguars on Friday selected Kentucky offensive lineman Luke Fortner, who is expected to play center.
Brandon Linder, a team captain the past five seasons and the Jaguars' starting center since 2014, retired in March.
"I'm not even going to lie; that one hurt me," he said of Linder's retirement. "We had been talking all offseason and I had an idea [Linder was going to retire], but when it actually set in and reality actually hit, that one was tough for me. I'm happy for him. That's going to be hard to replace. A lot of the things Brandon brought to the table are irreplaceable.
"As a leader, I just want to carry on the things he taught me and help some of the younger guys the way he was able to help me when I first got here."
NOTABLE: Jaguars's Running-Back Situation
Pederson on Saturday addressed the Jaguars' running-back situation, with the team selecting Snoop Conner of Mississippi in Saturday's fifth round. Conner joins a group that also includes third-year veteran James Robinson and second-year veteran Travis Etienne – with Robinson sustaining an Achilles injury last December and Etienne missing the 2021 season with a Lisfranc injury. Robinson is expected to return in training camp and Etienne is participating in the Jaguars' offseason program. "It's just a matter of him coming in and competing," Pederson said of Conner. "It gives us another opportunity to look at him and fit into that room and really compete and see where he's at. It does depend on where James is obviously going into training camp and into the regular season and obviously Travis as well. But this gives up depth at that position, gives us a little competition there and we're excited to get him here and get him going. I don't think he's just strictly a short-yardage back. I don't think that with him at all."