JACKSONVILLE, Fla – Trevor Lawrence won't say he has things mastered. Not completely.
That's mainly because you never quite master all details, possibilities and subtleties of an NFL offense. But entering his second NFL season, the Jaguars' starting quarterback likes his knowledge of his new offense. He likes it a lot.
"I think I'm getting there," Lawrence said Wednesday, 11 days before the Jaguars' 2022 regular-season opener against the Washington Commanders at FedEx Field in Summerville, Md.
Lawrence, the No. 1 overall selection of the 2021 NFL Draft, is playing in his third offense in three seasons: his collegiate offense at Clemson; last year's Jaguars scheme under Head Coach Urban Meyer and offensive coordinator Darrell Bevell; and this year's scheme of Head Coach Doug Pederson.
Pederson and offensive coordinator Press Taylor both have praised Lawrence's work ethic and quick grasp of a new scheme, with Lawrence saying Wednesday: "I feel great with where I'm at."
I do think I know the offense really well, but there are always little things," he said. " You can always get more on the same page with your coaches and know the game plan inside and out. Now, the challenge is every week it changes. You're playing different defenses, and it's really about doing that every single week. It's not just, 'This is the offense.' It's, 'What's our plan to attack this defense?'
"It's knowing all the ins and outs. That's the fun part and the part you really have to study."
It's an area where Lawrence has impressed veteran teammates. Tight end Evan Engram, a six-year veteran, spent his first five NFL seasons with the New York Giants and was a teammate of two-time Super Bowl-winning quarterback Eli Manning from 2017-2019.
"When I came in with Eli, he was 10 years plus in," Engram said. "He had been in Super Bowls and seen everything, but the way Trevor communicates – and the nuances of how he wants things run – that's one of my favorite things about him.
"He's going to see a lot more football. He's going to have a great career. He'll have his day to be up there with Eli. But his communication is very, very elite. It's amazing."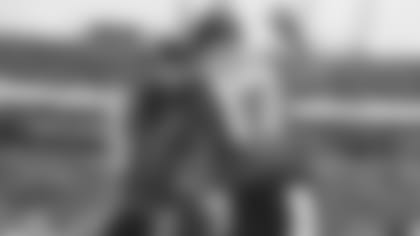 Lawrence threw 12 touchdowns and 17 interceptions last season – a season that included a difficult second half of the season for Lawrence, the offense and the entire organization. He finished with his best game of the season, throwing two touchdown passes with no interceptions in a season-ending victory over the Indianapolis Colts.
That season featured the December dismissal of Meyer, with Pederson this offseason emphasizing a new culture and restablisment of organizational trust.
"Honestly, the last year has been such a blur that it's kind of hard to remember the exact feel before Game 1 last year," Lawrence said. "But there's a good feeling. Guys are excited to be here. Our team is really close – along with the coaching staff. We all get along really well. There's a lot of confidence. That's exciting.
"We're really excited to put all of our focus on an opponent. We've got a lot of weapons. I'm excited to play with these guys. The way our offense and our team has gotten better through camp is really exciting. I'm excited for that."
Jaguars offensive coordinator Press Taylor said Wednesday he is comfortable with the Jaguars' running backs entering Week 1. "We feel good about the whole stable of running backs we're going to have available and how we're going to disburse those guys," he said. "We're comfortable with where everybody is and how it's going to play itself out." James Robinson, the Jaguars' leading rusher in 2019 and 2020, did not play in the preseason while returning from a season-ending December Achilles injury. Travis Etienne, the No. 25 overall selection in the 2021 NFL Draft, rushed for 52 yards on 17 carries in two games while returning from a Lisfranc injury that kept him out his entire rookie season. "We're excited about those two guys and everybody else in the room as well," Taylor said of a position that also includes rookie fifth-round selection Snoop Conner and JaMycal Hasty, a third-year veteran who played his first two seasons with the San Francisco 49ers.