JACKSONVILLE – Doug Pederson has seen enough – of the veterans, anyway.
Pederson, in his first season as the Jaguars' head coach, on Thursday announced an early end to the veterans' 2022 offseason program – with only rookies and a few "selected" veterans now scheduled to participate in next week's mandatory minicamp at TIAA Bank Field.
Thursday marked the last day of the '22 offseason program for veterans.
"The veterans are done," Pederson said, adding of the rookies-centric work next week: "It's a chance to really work with our young players and some of the selected vets on more of a one-on-one basis. So, we're going to do that next week."
Thursday originally was scheduled to be Day 10 of the Jaguars' '22 Organized Team Activities. Pederson gathered the team Thursday morning as if preparing for practice before telling players to instead board buses bound for Top Golf.
Pederson at the same time informed veterans of the change to minicamp, which will run Monday through Wednesday at TIAA Bank Field with less than 30 players participating.
"These guys (veterans) have worked extremely hard; they earned it and deserve it," said Pederson, head coach of the Philadelphia Eagles from 2016-2020. "It's all based on what they've done. I've done this kind of thing in the past. At the same time, I wanted to see this group work together.
"It wasn't final until just the last week or so for me. We got done as a staff what we needed to get done."
Pederson, who took over as Jaguars' head coach on February 6, has talked throughout the offseason about being pleased with the level of veteran participation. The voluntary program began April 11 with Phase 1 with Phase 2 taking place in late April and early May.
The team's Phase 3 – OTA and minicamp – began May 23 and consisted of nine practices, with the last three coming Monday-Wednesday this week. The team also held a three-day minicamp in late April, the week of the 2022 NFL Draft.
Pederson said the veterans were "thrilled" at the change.
"They've worked extremely hard," Pederson said. "We've had great attendance all spring. We had the three-day extra minicamp back in April. Guys are in good spots. I felt it was the right time to give them a little extra rest before we get ready to play."
Pederson has talked extensively since taking the job of building trust with players, saying Wednesday dismissing veterans from camp "goes hand in hand" with that idea.
"It was one of the key messaging points back on April 11 when I started with this group," Pederson said. "We've talked about the healing process, trust. I've seen this team grow from April 11 to today and how they have come together. We have a good group of leaders on this football team, how they handle things. It's just the right time."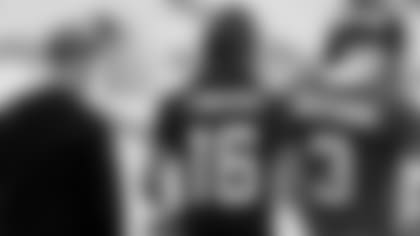 Pederson on Thursday also updated two injuries that occurred in Monday's Day 7 OTA practice:
Second-year defensive end/linebacker Jordan Smith, a fourth-round selection in the 2021 NFL Draft, sustained a knee injury and Pederson said he "obviously" will miss the 2022 season.
Backup quarterback C.J. Beathard sustained a groin injury and should be able to participate in 2022 Training Camp.
"We'll just wait and see how it progresses over the summer," Pederson said of Beathard.
Pederson said Monday's injuries did not factor into the minicamp changes.
"We still had another two of three days to practice this week after those injuries," he said.
Pederson on Thursday spoke at a media availability that featured the entire Jaguars coaching staff, a day that marked the first time many assistants from Pederson's first Jaguars staff have spoken to the media. Pederson was asked how the staff has come together in four months. "I've been pleased with all three of the coordinators," Pederson said of offensive coordinator Press Taylor, defensive coordinator Mike Caldwell and special teams coordinator Heath Farwell. "There's great communication with all three." Pederson said he likes how the coordinators "have handled the staff and staff assignments, and the planning and preparation that went into putting this offseason together. The guys have really jelled well. It's a good group with great communication and I look forward to what' coming up down the road."