There are big-picture reasons such as Head Coach Doug Pederson and an experienced, deep offensive coaching staff. Lawrence discussed those reasons Monday and also discussed something more specific: Pederson's offensive scheme.
Lawrence likes the offense, and he's getting more comfortable in it every day.
"It allows us to play fast," Lawrence said this week as the Jaguars began the third and final week of 2022 Organized Team Activities as TIAA Bank Field.
Lawrence, the No. 1 overall selection in the 2021 NFL Draft, is entering his second season as an NFL starting quarterback. But it's his first season in Pederson's offense, the strength of which Lawrence said is that it allows to play instinctively.
"We mix it up a lot," Lawrence said. "There are a lot of outlets for the quarterback to put yourself in the right position. There are a lot of answers and a lot of adjustments, but only if you need them. If not, you can play fast and guys can play free. It really lets people react.
"That's the whole idea – to give you the answers. But at some point, you have to go play and play fast. That's what we're getting now, to where we're understanding everything and can go play."
Pederson early this week praised Lawrence, citing his progress made throughout the '22 offseason program.
"He's doing a really nice job," Pederson said. "He's leading the football team, No. 1. He's executing the offense. We've obviously been impressed with him throwing the football – and how easy is it for him to throw."
Pederson said Lawrence's communication has been particularly notable.
"That's the growth process," Pederson said. "It has been fun to get to know him a little. We've put him in some tough situations. We've put the whole team in tough situations. That's part of the process, too. He has been able to handle those really well."
The Jaguars on Monday started Week 3 of OTAs, with Lawrence and most veterans having been in the team's voluntary offseason program since about mid-April. That marked the first time Lawrence and most veterans had seen Pederson's playbook.
Lawrence said the team has essentially installed the offense three times since then.
"We're getting close to end," he said. "Each time we add a few things to each install, a few little twists and adjustments and additions, all that. We have a lot of stuff in right now. We went through all of it, through everything, at least one time – and some of the things, this is the third time. We're making great progress, playbook's coming together really nicely. It's been really good.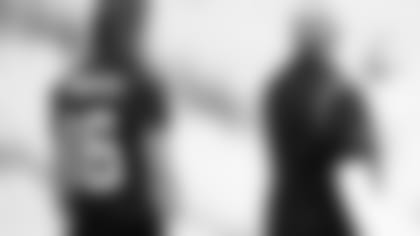 "It's been really smooth. By the time training camp comes, obviously we're going to back and review stuff, but then we can really hit the ground running and have everything in and script practices a certain way where we have all of our ammo instead of just install by install.
"We can kind of have the whole playbook."
Lawrence as a rookie last season threw 12 touchdowns with 17 interceptions. But he said experience gained in that first difficult NFL season "helped me a lot" when it came to this offseason.
"That was my first time really dealing with checking in and out of things, getting us in the right play – good matchup, route, whatever it was," he said. "Last year it was tough to think about all of those things, to have all those options, to figure what was best.
"Now that I've had that experience … it helps a lot. I have a few things. You can't do everything, so you have a checklist in your mind: 'These are some things I want to get to. If we get the right look, get to them. If not, do the best with what you've got and do the next best thing.'
"That's something I've been trying to work on, and I think it has helped a lot."
And as his second NFL season draws to a close, Lawrence said he's optimistic about more around the Jaguars than just a new offense.
"There are a lot of things," he said. "We have a lot of really good players. The coaching staff, just the way everything's been structured, the way they've approached everything, the leadership … all those things I think are going to help us a ton. The mindset of the team has been great.
"We had a lot of good people here on the team, good voices, good players. But then to add a bunch of new guys that are also just hard workers, great players, the right people you want to be around, all those things coming together.
"I think that the leadership is definitely going to make a big difference."