JACKSONVILLE – He's working, and that's showing in a big way.
Rookie running back Tank Bigsby is consistently impressing in multiple ways during Jaguars 2023 Training Camp – and it's no mistake that work ethic and drive are among those ways.
"That's the task coming here, doing whatever I can do to help the Jags win," he said.
Bigsby, a third-round selection in the 2023 NFL Draft from Auburn University, spoke to Jaguars Media Saturday following Day 9 '23 camp practice in EverBank Stadium. Head Coach Doug Pederson earlier that day spoke of multiple positive traits Bigsby has shown early in camp.
Football IQ and desire to learn quicky were chief among them.
"Outside of speed, athleticism, all that … this kid is a sponge," Pederson said. "He's really a smart, young running back. He understands the defense. One of the things, too, that has been impressive is how well he has taken the coaching – whether from [running backs coach] Bernie [Parmalee], myself, even [offensive line coach] Phil Rauscher.
"He's able to take that and apply it to what he's doing. He's just improving every day."
Bigsby's addition gives added depth to a Jaguars backfield led last season by Travis Etienne Jr., who started 12 games in 2022 and rushed for 1,125 yards with five touchdowns. Etienne spoke positively earlier in camp of his relationship with the rookie, saying: "There's no jealousy within the room; everybody's here rooting each other and we're all helping each other try to get better."
"I've seen a lot out of Tank," Etienne said. "I just love his grind; I love his grit. I feel like he's very hungry. That's what I love about him, just seeing his willingness to get better every day. He's a rookie, he's new in the scheme. I've been there, so I'm seeing where he's going and just his willingness to come in every day and learn.
"I love that about him and that's why you're going to see a lot of growth from him early."
Bigsby said that sort of focus isn't new.
"I always believe in putting your best foot forward and focusing on the task," he said. "I've still got a long way to go. We've got the first preseason game coming up. I have to keep getting better every day to become the best I can be and reach my full potential.
"I'm where I expected to be. I have to keep getting better and know my assignments, be disciplined. Now, it's moving fast and getting used to the pace of the NFL."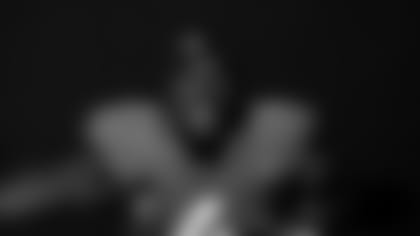 Bigsby in three seasons at Auburn rushed for 2,903 yards and 25 touchdowns on 590 carries. And while he caught just 62 passes for 448 yards and no touchdowns, Pederson on Saturday said he was optimistic about Bigsby's potential as a receiver.
"They didn't go to him a bunch [at Auburn], but he's a real good pass catcher out of the backfield," Pederson said.
Bigsby smiled at the assessment, saying that Cadillac Williams – the NFL's Rookie of the Year in 2005 who was running backs coach/interim head coach at Auburn during Bigsby's career there – often praised him similarly.
"I'm so glad I can that because I didn't get to show that at Auburn," he said. "Coach Cadillac used to tell me all the time, 'Man, you run some of the best routes I ever saw. You catch the ball really good.' I'm going to keep showing them that I'm more than just a downhill running back. I can catch the ball and do what I have to do."
Pederson Saturday praised veteran defensive lineman Foley Fatukasi, who has been strong early in camp. Fatukasi signed with the Jaguars as an unrestricted free agent from the New York Kets during the 2022 offseason. "He came in in a great frame of mind," Pederson said. "He wanted to get back to the player he was when we evaluated him as a free agent. He's done that. He has been real impressive these first two weeks. He's coming off the ball, his pad level's low and you're starting to see those signs again. He knows where he needs to be and he's heading in that direction. He's our guy in the middle, and you want him to go to push the pocket and generate some power there."
Pederson on Saturday said first-year wide receiver Kevin Austin Jr. has been impressive among the reserve players at the position early in camp. "He's been flashing," Pederson said. "He has done a really nice job kind of embracing that second year coming in, understanding what him to do and his role." Pederson also mentioned Elijah Cooks, Jacob Harris and Tim Jones in this vein.