JACKSONVILLE – This is a time for smiles around the Jaguars.
The Jaguars are 6-2 entering their Week 9 bye. They lead the AFC South by two games and a half games with their best record through eight games in 24 seasons. So yes, it's fun – and Lloyd and other Jaguars players this week said the task is clear:
Make the fun last in the second half of the season.
"We understand this is our last break, our last chance to fully get 100 percent healthy before we go into this long run," running back Travis Etienne said Wednesday.
Etienne and Lloyd were among multiple Jaguars players speaking to the media Tuesday, the only day of media availability during this 2023 bye week. Most players agreed – that while being tied for the AFC's best record through eight games is a good feeling, it's not the ultimate feeling or ultimate goal.
"It's a week-to-week basis and that's our mentality," Jaguars outside linebacker Josh Allen said. "We can win any game. Obviously it's showing. We have to focus on the present moment and stay in that moment throughout the game. We're 6-2 for a reason, so if we continue to have that mentality, we'll be good."
Wide receiver Christian Kirk, too, said the Jaguars learned after starting 2-6 last season before winning the South that "it doesn't matter what you do in the first half of the season."
"We talked about it in our meeting today: I was on a team that was [9-2] going into the bye then lost six of our last eight," Kirk said of the 2021 Arizona Cardinals. "We made the playoffs, but we weren't playing great football and we were a first-round exit. So, it doesn't matter what you do in the first part of the season, it's all about how you play when these games start getting a little bit more important."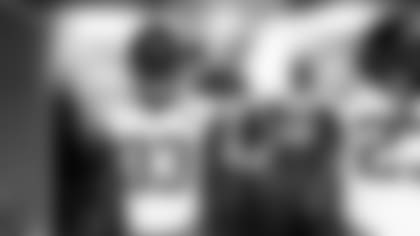 The Jaguars not only lead the AFC South at the season's midway point, they have won 11 of 13 regular season games dating to a five-game winning streak at the end of the 2022 season that clinched their first division title in five seasons.
If such success brings outside praise, Lloyd said that matters little inside.
"We've always looked at ourselves as the ones being hunted, especially knowing the success we had going to the playoffs last year," he said. "But we don't worry about the outside noise. People are going to say what they're going to say. Even if we see certain things, we don't let that affect us players and coaches.
"We're all locked in on our next opponent and doing what we have to do to prepare so we can continue to have success the way we have."
Added Lloyd, "We don't even worry about, 'Oh, we won the last game.' We know we're expecting to win this game. We understand that nothing's guaranteed. It's just 1-0 every week."
The Jaguars won all five of their games in October following a 1-2 start, a contrast to an 0-5 October that left them 2-6 midway through 2022. Offensive coordinator Press Taylor noted the contrast speaking to players Tuesday.
"I was like, 'Dang is this is a much better feeling,''' Etienne said. "I know everyone feels much better and we're just grateful for it. We know what it would be like on other side and now we just want to enjoy this moment. We're just kind of soaking it right now, but don't get too stuck in the moment and not be able to move forward."
Allen, among the most tenured Jaguars players' said the focus will remain on taking a consistent weekly approach.
"We're halfway through," Allen said. "I've been on this team when we one game [in 2020] and when we won three games [in 2021]. I've been on this team when we've lost five then won the rest. We're at a position where we are successful, but if you don't come in with the same mentality you can lose the rest of your games. That's something we don't want to do.
"It goes back to leadership. It's just a trickle-down effect of, 'How well can we handle this? We have a lot of guys who are handling it really well, a lot of guys who are excited about winning, a lot of guys who don't want to lose and who are going to do whatever it takes not to get that feeling.
"If we continue to play like this, the sky's the limit."