JACKSONVILLE – The positives outweigh all else.
So, while Jaguars quarterback Trevor Lawrence's rookie season hasn't been easy, offensive coordinator Darrell Bevell on Thursday said the No. 1 overall selection in the 2021 NFL Draft continues to progress – and to do so at an impressive pace.
"He's been a quick learner for us," Bevell said Thursday as the Jaguars (2-9) prepared to play the Los Angeles Rams (7-4) at SoFi Stadium in Inglewood, Calif., Sunday at 4:05 p.m.
Lawrence, after a passer rating of more than 90 in three consecutive games before a Week 7 bye, has been under 70 in four of five games since. After three consecutive games under 200 yards passing, he completed 23 of 42 passes for 228 yards and a touchdown with an interception in a 21-14 loss to the Atlanta Falcons Sunday.
"There's so much to learn," Bevell said. "There was a lull as a whole, really. None of this can ever be just put on him. It's really all of us. Everybody has to work together. He's gotten different things from different defenses. Some defenses said, 'Hey, we're going to come after him and see if he's got those answers.' Then there are teams that have been doing intricate disguises and making him progress.
"All of those things he has gone through have helped him learn and get better."
Bevell on Thursday also discussed the offense's improvement in third-down efficiency. While the Jaguars rank 28th in the NFL through 11 games converting 34.56 percent of third downs, they have improved there in recent weeks and converted nine of 16 third downs against Atlanta Sunday.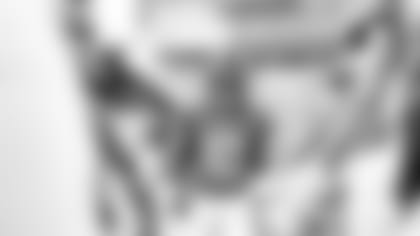 The Jaguars converted seven of nine third downs under four yards in that game and also converted third-and-22 with a 24-yard pass from Lawrence to wide receiver Laviska Shenault Jr.
"The last couple of weeks have been better," Bevell said. "One of the things that really helped us last week was staying in better down-and-distance situations. Six of them were third and ones and one of those was with 10 seconds to go [in the first half]. You would have liked to have played that one different, but the game dictated that one.
"The short yardage was really good, so that helped us. Then there were a couple of opportunities to make plays and we were able to do that."
Cornerback Shaquill Griffin (concussion) and linebacker Myles Jack (knee) were among four Jaguars players – all defensive players – missing practice for a second consecutive day Thursday. The others: defensive tackle DaVon Hamilton (knee) and defensive lineman Malcom Brown (toe). Linebacker Damien Wilson practiced limited with an ankle injury after missing practice Wednesday. Running back James Robinson (heel/knee), cornerback Tyson Campbell (shoulder) and linebacker Dakota Allen (shoulder) all practiced limited for a second consecutive day with punter Logan Cooke (left knee) practicing full for a second consecutive day.
Defensive coordinator Joe Cullen on the Rams' offense with current quarterback Matt Stafford compared to former quarterback Jared Goff (now with the Detroit Lions): "They went to the Super Bowl with [Goff following the 2018 season], so it was pretty good then and it's still pretty good. It's a little different not much. They maybe run a little more drop-back more than play action. But they were really good with Goff and they're really good now."
Cullen on a Jaguars run defense that allowed 149 yards rushing to Atlanta last Sunday, with wide receiver/running back Cordarrelle Patterson rushing for 84 of his 108 rushing yards in the first half: "The fundamentals early in that game … not up to our standards with tackling, with striking blocks and with getting off of blocks and with playing your gap. It was much better in the second half, but we can't come out and start slow in terms of giving the running back the momentum he had. We cannot give teams the ability to run the ball like that. That's what we'll be focusing on." … Bevell on a Rams defensive front that includes tackle Aaron Donald and ends/pass rushers Leonard Floyd and Von Miller: "We've faced some good lines up to this point, but when you throw any of those names out everybody knows them. Even their backups that come in are doing a good job. As far as just personnel and the battles we're going to face … probably the best we've faced to this point." … Bevell said he expects wide receiver/returner Jaydon Mickens to play on offense this week. Mickens returned punts against the Falcons but did not play offensively after signing from the Tampa Bay Buccaneers' practice squad two days before the game. "We'll continue to teach him the offense and get him in," Bevell said.