JACKSONVILLE – Talk about too close to call.
This was Monday. Farwell, in his first season as the Jaguars' special teams coordinator, was referring to the ongoing kicking competition between Ryan Santoso and Elliott Fry – a competition still very open entering a preseason game against the Cleveland Browns at TIAA Bank Field Friday.
Results in Thursday's preseason opener:
Santoso: One attempt, 60 yards, wide right. Two kickoffs, one touchback, one two yards deep in the end zone and returned 19 yards.
Fry: One attempt, 46 yards, successful. One kickoff, touchback.
"I saw some good stuff," Farwell said Monday shortly after a two-and-half hour practice on Day 10 of 2022 Training Camp at the Episcopal School of Jacksonville Knight Sports Campus.
"We put Ryan in a really tough spot, but I think that's what preseason is about. We challenged him. That's a tough kick. Those are tough positions to be put in, and it was close. That's part of the deal. We'd love to have him make it. That would have been a good start to preseason, but that's part of the deal.
"I thought Elliott did a really good job. That's a good kick in the fourth quarter and he had a good kickoff as well."
The Jaguars opened camp with Santoso and rookie Andrew Mevis at kicker, releasing Mevis shortly thereafter and signing Fry. Santoso has made four of five field goals in seven career games and Elliott has made five of six field goals in three career games.
"We like where they're at," Farwell said. "You guys (the media) see a couple of kicks, but we're charting them all practice. We have a really good idea of where they're at and things they need to work on. They're both doing a good job.
"I believe the guy's in this camp that can win the job, but it's up to them. What they do with these practices/preseason games is going to determine that."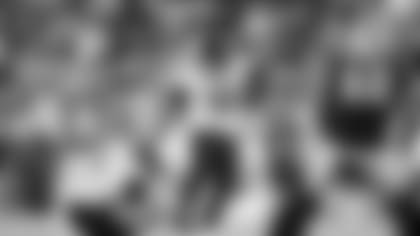 Offensive coordinator Press Taylor, speaking before practice Monday, praised rookie center Luke Fortner and second-year right tackle Walker Little for their play against the Raiders. "I thought they both did a good job," Taylor said. "They looked like they belonged. It wasn't too big for them. It wasn't a moment they weren't ready for." Fortner, a third-round selection in the 2022 NFL Draft, has worked with the first-team offense throughout '22 camp. Taylor said Fortner played fast and identified looks and formations well Thursday. "There were some times maybe a front presented itself that wasn't something we had gone over," Taylor said. "There were a couple of things we maybe misidentified, but in terms of communication and recognition, play speed, he did a good job. There are things we're looking for him to improve upon as he goes forward. That's what we'd expect out of a young player, but he did nothing to diminish our excitement for his ability." Little, a second-round selection in the 2021 NFL Draft, is competing with Jawaan Taylor for the starting right tackle job. With Taylor out with a hamstring issue Thursday, Little took all first-team reps in the first half. "He was really calm in his pass sets and did a really good job communicating with the guys next to him and being on the same page and not getting overeager," Taylor said. "It was a good outing."
Taylor on Jaguars wide receiver Laviska Shenault Jr.:" We have to continue to make sure Laviska is healthy and available for us at all times so we can continue to see exactly what we think his skill set is. We have a vision for what the role could be for him, but that's something we have to continue to work through. Hopefully that comes up in game situations and competitive practice situations where we can really see if that's where we want it to be."
Defensive coordinator Mike Caldwell on rookie outside linebacker/No. 1 overall selection Travon Walker, who had a pressure on the first play against the Raiders and a sack on the ensuing series: "You like the get off. First play of the game, he got off and used his power. He hit the quarterback. We just want to see him continue to get better, continue to work his moves, and build his tool box. We're happy so far."