That's true physically, with the veteran wide receiver saying Thursday he couldn't be happier to be in Jacksonville after signing with the Jaguars as an unrestricted free agent in March.
It's perhaps even truer mentally.
"Every second here has been great," Kirk said Thursday morning on Day 4 of Jaguars 2022 Training Camp at Knight Sports Campus at Episcopal School of Jacksonville. "I'm playing the most free-minded, pressure-free and relaxed football I've felt in a while. No pressure at all."
Kirk, who played his first four NFL seasons with the Arizona Cardinals, said he attributes much of that to his new situation. He is being asked not only to produce on the field, but be a leader off it – and teammates and coaches say he has handled the off-field part remarkably well.
"He's a silent leader," Jaguars Head Coach Doug Pederson said. "I don't think he missed a day in the offseason. His attention to detail is unbelievable, his work ethic. How he and Trevor [Lawrence] communicate is something that for a young quarterback and a veteran receiver, you would think these guys have been together for a couple of years.
"He leads that [wide receiver] room. It's a young, impressionable room, and he's one of the leaders in there and he's done some really good things."
Kirk, who caught a career-high 77 passes for 982 yards and five touchdowns in 2021, credits his off- and on-field approach to multiple high-profile former NFL teammates. He played with Pro Bowl wide receiver A.J. Green this past season, and with Pro Bowl wide receiver Andre Hopkins in 2020-2021 after playing with Pro Bowl wide receiver Larry Fitzgerald from 2018-2020.
Kirk on Thursday called himself "incredibly lucky" to have played with the trio.
"The way those guys prepared and competed every single day, there was no drop-off," he said. "They had that same mentality that they were going to be the best player on the field, day in and day out. They were so great to work with and be able to watch.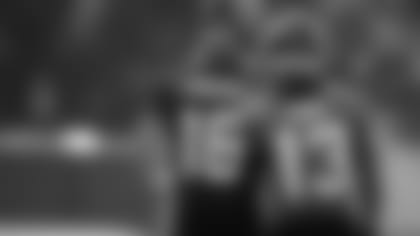 "It was the same thing on Sundays. Once that whistle was blown, there was no doubt in their minds that they were the best player on the field that day and they were going to go out and perform like that. Those are little things that I've been able to learn from them and ty to apply to my game as well."
Kirk's leadership with the Jaguars has been evident not only in what both he and Lawrence have described an easy, developing friendship, but by his role – along with wide receiver Marvin Jones Jr. and Lawrence – in organizing the Jaguars' skill position players' recent offseason workout/minivacation to the Bahamas.
"It's more about off-field chemistry; that was our goal," Kirk said. "It's a big thing, especially for offensive skill guys and their quarterbacks, to get together and get to know one another and build that relationship. It makes it better when you take the field and you're working harder."
Kirk on Thursday said he expects to be moved around in the Jaguars' offense, with Pederson known for an offense that emphasizes multiple productive receivers in oft-interchangeable roles.
"I would for sure prefer to be moved all around – in the slot and outside," he said. "Schematically, the coaches talk about what the defense does week to week will dictate where I line up week to week. It adds a different dynamic. We have so many other guys who do great things as well.
"I feel I'm at my best when can play a little outside and inside, just keep moving around."
Wherever he lines up in the offense, what Kirk said matters most is he'll be doing it in an environment in which he – and the team – can thrive.
"There's no worries; all you have to do is go out and play football," Kirk said. "I know when I'm at my best I can be one of the best. That's all I'm focused on. I truly feel having this new opportunity in a new organization around new teammates, I can truly just be myself and focus on being the best I can be for these guys and being a leader.
"I'm just going out there and putting it all on the line for them. I truly believe we have such a great group. It's just been a lot of fun every day taking the field. Every second here has been great."